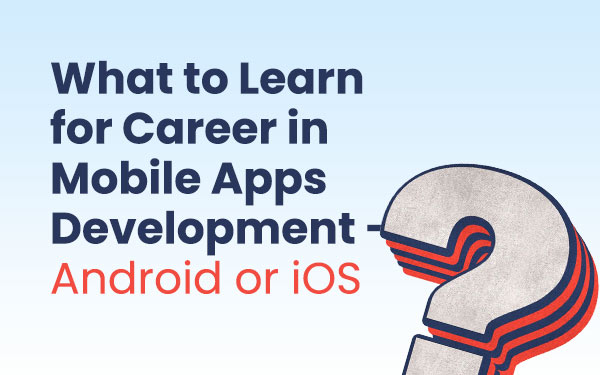 Want to be a mobile apps developer? Then what should you prefer to learn – Android or iOS? This is the question which seems to be troubling every fresher these days who is willing to make career in mobile apps development.
Mobile apps development is a career to make right now with the up going demand of smart phones. It's the Android phones and iPhones that are making the latest wave in the world of communication because of their sleek designs, advanced functionality and innovative applications they support. The Android and iPhone applications are very popular and highly in demand these days. Therefore without a doubt there are pretty good career opportunities for mobile app developers working on these two platforms.
Today companies working on mobile apps development are focusing on Android and iPhone technologies and hence are in want of developers having strong skills in either of these technologies. However for most of these companies it's the knowledge of both the platforms that is much preferred than the skills of either of the two.
While Android development is entirely based on Java, iOS or iPhone development is based on Objective-C. Hence if you are having knowledge of Java, start with Android development as it would initially be difficult to start up with iOS development where you require to develop apps using Xcode IDE and Objective C whose syntax of wrapping commands in brackets may seem a bit confusing.