Everything You Need To Know To Start Your Career In Android Development| Guide For Android Development Certification
Have you ever wondered how to create the next big Android app? Are you ready to take the plunge into the world of Android Development? With the right tools and knowledge, you can unlock the potential to create amazing apps and experiences on the world's most popular mobile platform. 
Android Development in India is on the rise. According to a recent study, the number of Android developers in India has grown by over 10% over the last year. India is now one of the top countries in the world for Android Development, with an estimated 1.3 million developers currently working on Android projects. This is a huge jump from just a few years ago when the number of developers was estimated to be around 200,000. 
With the continued growth of Android Development in India, it is clear that the future of mobile app development lies in the hands of India's talented developers.
In this blog, we will discuss the Android Development Course, the roles available in Android Development, the qualifications and skills required for each, the career paths available, and the earning potential of this dynamic career.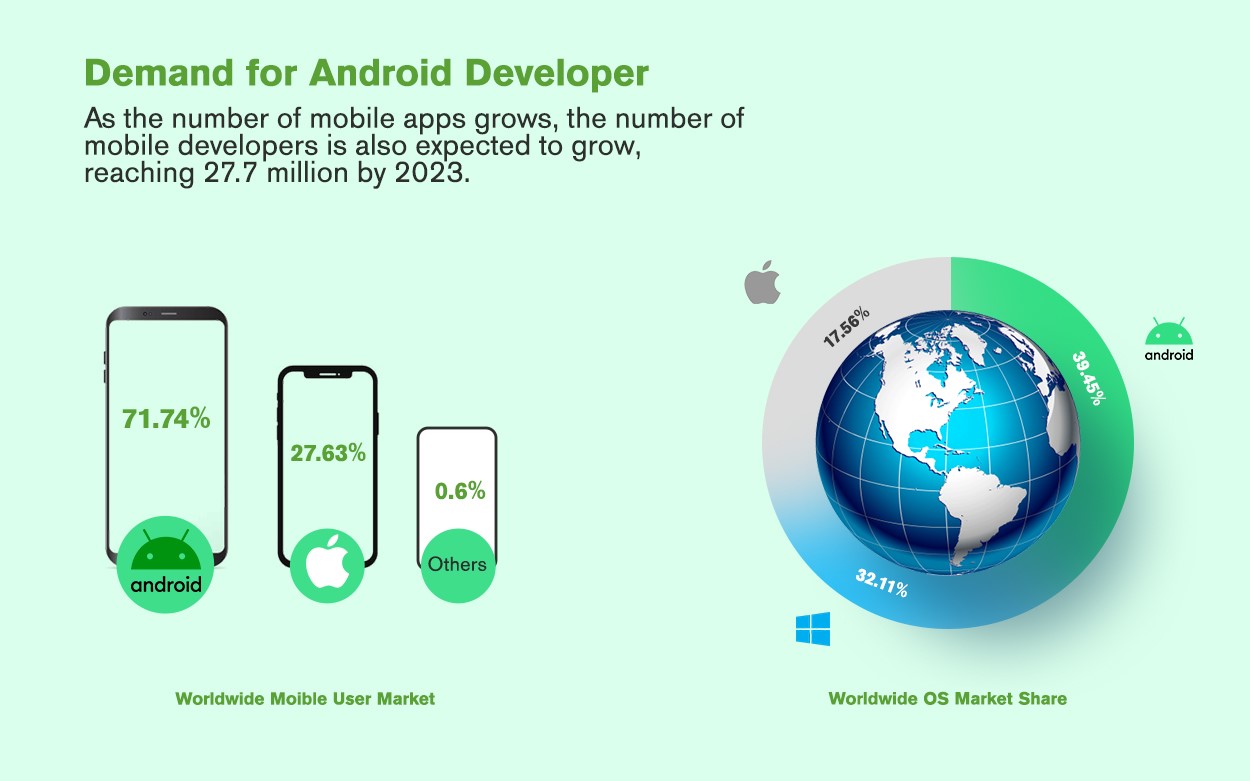 What Is Android Development?
Android is an operating system for mobile devices such as smartphones and tablets that Google develops. It is a combination of software packages and Linux kernel.
It's an open-source Google product. Hence, Android mobile users can link it with other Google products like email, cloud storage, etc. The Google-maintained OS system has a wide audience and developer-friendly features. This makes it a must-have skill set for any mobile app developer. If you are starting your career in the mobile app development industry, Android classes can help you develop a fresh perspective and introduce you to many job opportunities.
The Android SDK provides the tools and APIs necessary to develop Android applications. It comes with a code sample, a code debugger, library support, device emulation support, documentation, and example code. The Android SDK is available for download from the Android Developer website.
Once you have the Android SDK, you can develop applications in your preferred development environment. Several IDEs (integrated development environments) are available for Android Development, such as Eclipse, Android Studio, etc.
To develop Android applications, you will need to have some knowledge of the Java programming language. If you are new to Java, several resources are available to help you get started, such as the Java tutorials on the Oracle website.
Once you have the necessary skills and tools, you can develop Android applications. Several resources are available to help you get started, such as the Android Developer website and the Android Developer blog.
If you want to reach a wider audience, opting for the Android platform is best. Android is free to use and easy to customise. Furthermore, Android-based applications come with many improvements and updates. Also, Android has better compatibility with devices. This makes it a popular choice for developers and smartphone manufacturers. With a course, you can sharpen your skills to make an impressive portfolio and find enticing work opportunities.
What Are Android Development Courses and Why Should You Register for an Android Course?
Android App Development Courses are designed to teach individuals the fundamentals of building mobile applications for the Android operating system. 
Android Certification courses involve learning the basics of coding in Java, the official language for Android app development. Students will learn how to create a basic 'Hello World' application, learn the fundamentals of user interface (UI) and user experience (UX) design, and learn about debugging and testing applications. 
Once students understand the basics well, they can move on to more advanced topics, such as creating user interfaces and integrating APIs into applications. In Android Training Classes, they will learn about publishing and monetizing applications and how to use the Android Software Development Kit (SDK) and other development tools. 
In the end, students should have a solid understanding of creating and publishing quality mobile applications for the Android platform.
Android Development: Why Is It One Of The Best Tech Jobs?
Android Development is one of the most sought-after and in-demand tech jobs today. With the ever-growing prevalence of mobile technology and the ever-increasing number of apps being used daily, it's no surprise that Android Development has become an incredibly lucrative profession. 
Job Market 
Android developers are in high demand due to the increasing popularity of mobile devices and applications. According to LinkedIn, the global demand for Android developers has grown by over 200% in the last three years, and the number of job openings for Android developers has grown by over 50%. This makes Android Development one of the fastest-growing and most in-demand tech jobs.
Attractive Salary 
Another benefit of Android Development is the potential salary. The average salary of an Android developer in India is up to 15 Lakhs INR per year. This is significantly higher than the national average salary and makes Android Development one of the best tech jobs regarding earning potential. Additionally, experienced Android developers can earn up to 20 Lakhs INR per year, making it even more attractive to those looking to make a good living in the tech industry.
In-Demand Skill
Android Development is an in-demand skill and will likely remain so for the foreseeable future. The demand for mobile applications is growing rapidly, and companies are increasingly looking to hire skilled Android developers to create efficient applications. Furthermore, the number of Android users is growing, meaning that more and more businesses and individuals need Android developers.
Flexibility
One of the most important benefits of becoming an Android developer is the flexibility it provides. Android developers can work remotely, meaning they don't have to be in a traditional office setting. This allows them to work from anywhere in the world and still be able to do their job. Additionally, many companies offer flexible hours, meaning developers can choose to work when it suits them best. This makes Android Development a great career choice for those who want a job that fits their lifestyle.
Rewarding Career Path
Android Development is an incredibly rewarding career path. Developers have the opportunity to create innovative and exciting applications that can make a real difference in people's lives. Additionally, Android developers have the potential to become highly sought-after experts in their field and can progress quickly in their careers. This makes Android Development an attractive career for those looking for a challenging and rewarding job with great potential.
Industries Hiring Android Development Professionals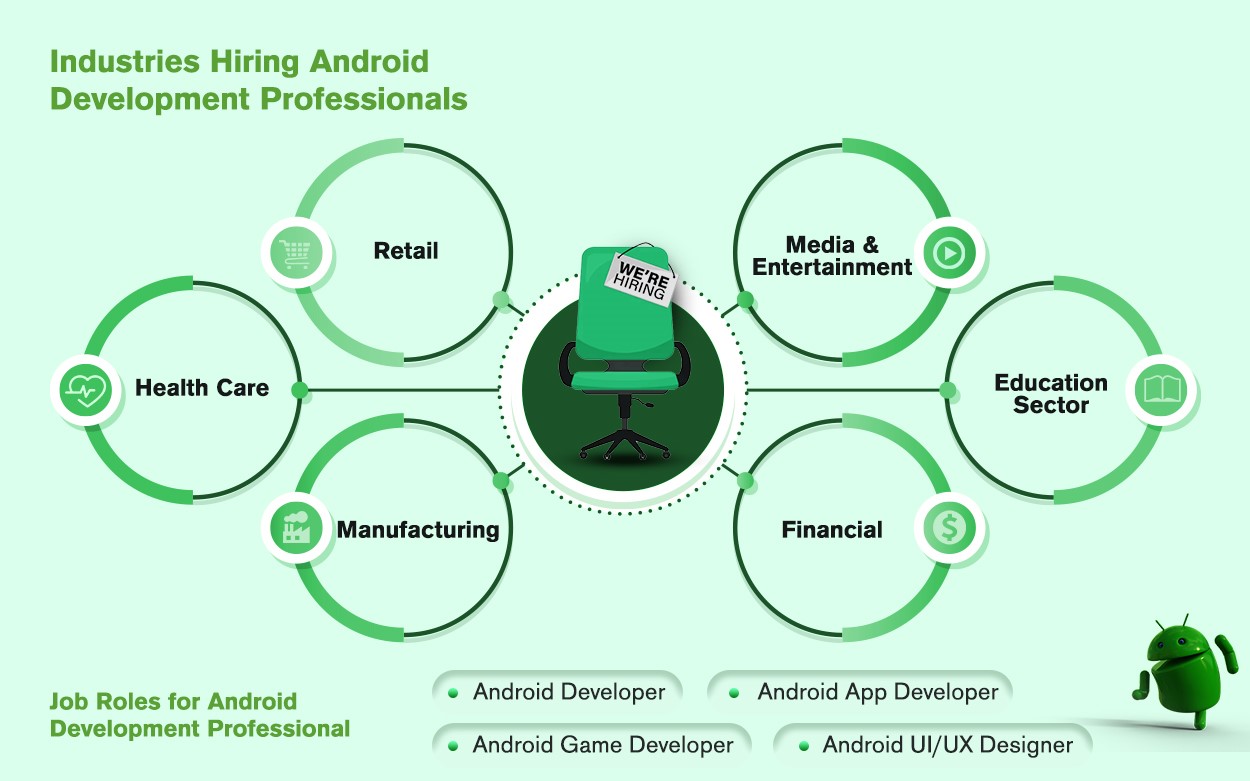 Here are some of the industries that are using Android Development to create amazing products and services:
1. Retail: Retailers create innovative shopping experiences. For example, some retailers use beacons to send shoppers personalized offers and discounts as they browse the store. Other retailers use Android apps to create loyalty programs that keep customers returning.
2. Healthcare: Android Development is used in the healthcare industry to create various applications. For example, some apps allow patients to schedule appointments and track their medical history. There are also apps that doctors can use to access medical records and make diagnoses.
3. Manufacturing: Manufacturing companies are now seeing the value of Android development to drive their operations forward. By utilizing Android Development, companies can design apps that make ordering and tracking parts and materials easier, more efficient, and more cost-effective. Increased productivity, accuracy, and cost savings can all be achieved with Android development in the manufacturing industry.
4. Media & Entertainment: These companies are quickly adopting Android Development to create apps that make it easier for users to access their streaming content. By optimizing their services for Android Development, providers can improve video and audio quality while also making their content more accessible. This opens up a platform to reach new viewers and customers and increases user satisfaction at the same time.
5. Education sector: Android Development has been used to create more interactive programs and educational apps that make learning more enjoyable and easier to understand. Students can interact with the content in a more engaging way and have access to a variety of resources at their fingertips. It provides a convenient way for teachers to assign tasks to students and for them to collaborate without being in the same location.
If you're interested in becoming an Android developer, there are many institutes that offer courses. Research and find the Best Android App Development Course that will teach you everything you need to know about developing Android applications, from the basics of Java programming to the most advanced techniques used by professional developers.
Most Promising Jobs Roles
In the Android software development industry, there are many different kinds of jobs available. Some of them are
Android Developer: An Android Developer's main job is to make software applications that can be used with the Android operating system. They must be very good at programming in Java and know how to use the Android Software Development Kit (SDK). Android developers might be able to make up to 7 Lakhs Indian Rupees (INR) per year.
Android Game Developer: Android Game Developers are responsible for making video games that can be played on devices that use the Android operating system. They must have a strong background in programming and have worked with Unity or another game engine. If they are successful, an Android Game Developer could make up to 8 Lakhs Indian Rupees per year (INR).
Android App Developer: Android App Developers are in charge of making apps for the Android operating system. They need to know how to program and have previously worked with the Android SDK Development Kit. An Android App Developer usually makes up to 9 Lakhs Indian Rupees (INR) per year.
Android UI/UX Designer: The job of an Android UI/UX Designer is to make user interfaces and user experiences for mobile apps that run on the Android operating system. They also need to know how to use the Android Software Development Kit and have experience with visual design (SDK). An Android UI/UX Designer can make up to 8 Lakhs Indian Rupees (INR) per year on average.
How Can You Start Your Career in Android Development?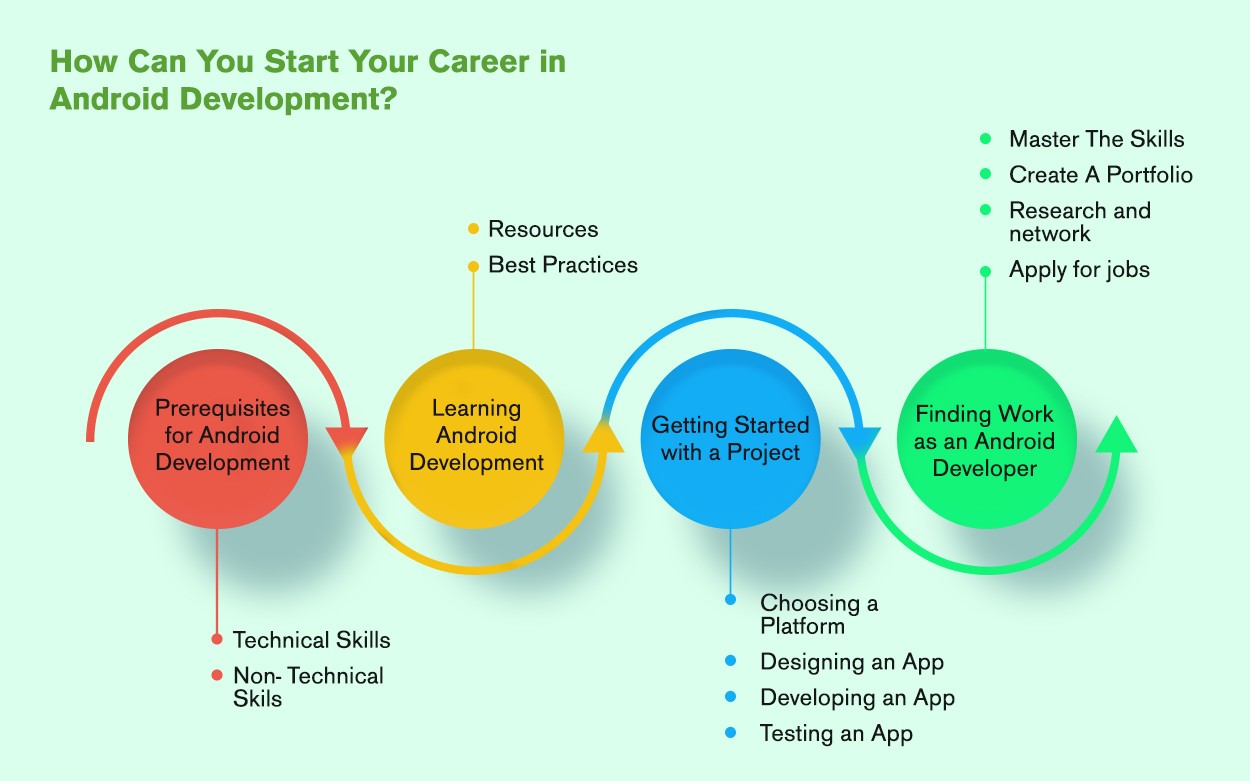 Prerequisites for Android Development 
Android Development is an incredibly broad field. The prerequisites for becoming an Android developer vary depending on the development you are looking to do. Generally speaking, there are both technical and non-technical skills that you should possess to be successful. 
Technical Skills: The technical skills required for Android Development include knowledge of programming languages such as Java and Kotlin, as well as an understanding of databases, XML, and other programming languages. Additionally, familiarity with the Android SDK (Software Development Kit) and Android Studio is necessary. 
Non-technical Skills: In addition to the technical skills required to become an Android developer, some non-technical skills are important. These include problem-solving, creative thinking, and working well with others. Additionally, a good understanding of the latest technologies and trends in the industry is also advantageous. 
Learning Android Development 
While the technical and non-technical prerequisites for Android Development are important, the most important factor in becoming a successful Android developer is learning the skills necessary to do the job. Several different resources are available for learning Android Development, and the best way to learn will depend on your individual needs and goals. 
Resources: There are several online resources available for learning Android Development. These include books, tutorials, online courses, and forums where experienced developers can offer advice. There are also several in-person Android Development bootcamps and conferences that offer hands-on learning experiences. 
Best Practices: When learning Android Development, it's important to remember to practice what you've learned. Building hands-on projects is the best way to apply your knowledge and gain experience. Additionally, it's important to stay up-to-date with the latest industry trends and network with other Android developers to better understand the field.
Getting Started with a Project 
Once you've understood Android Development, the next step is to get started on your first project. This is an exciting and important step, allowing you to showcase your skills and gain experience. 
Choosing a Platform: The first step in getting started with a project is to choose the platform on which you will develop the app. Android is available on several devices, including phones, tablets, and wearables. Each device requires different development tools and considerations, so choosing one that best suits your needs is important. 
Designing an App: The design of an app is an essential factor in its success. You should consider the user experience, layout, and functionality when designing an app. Additionally, it's important to ensure that the design is optimized for the device on which the app will be developed. 
Developing an App: Once the app's design has been finalized, it's time to start developing. This involves writing code, testing the app, and ensuring all features work correctly. Additionally, it's important to ensure that the code is well-structured and efficient. 
Testing an App: Testing an app is an important development process. Testing ensures that the app is functioning correctly and is ready for release. It's important to test the app on various devices and platforms and perform usability testing to ensure the user experience is as smooth as possible. 
Finding Work as an Android Developer 
Once you've gained experience and built a portfolio of apps, the next step is to find work as an Android developer. This can be a challenging process, but there are several steps you can take to increase your chances of getting hired. 
Here are some simple steps to help you get started:
Master The Skills: First, you need to get the requisite skills for developing for the Android platform. You will need to learn how to use the Android APIs and develop apps using Java. You may also need to have experience with XML, web development, and debugging. It's important to put in the necessary time and effort to ensure that you have the correct knowledge and experience for developing for the Android platform.
Create A Portfolio: You should set up an online portfolio. This will show potential employers the types of apps you are capable of developing. It's also a great way to demonstrate your creativity and initiative when it comes to coding.
Research and network: You should read as much as you can about the Android platform and find out which companies are actively seeking Android developers. Making connections with other developers and employers is also important, as it can give you more insight into the industry.
Apply for jobs: Once you're confident in the skills you've acquired and the portfolio you've created, go ahead and start applying for jobs. Be sure to tailor your resume and cover letter to the job you're applying for, as this can make a big difference. With enough time and dedication, you can be confident that you'll be able to find work as an Android developer.
How To Choose The Best Android Development Course?
Choosing the best course for you can be difficult, but it is essential for those pursuing a career in this field. There are a few things to consider while choosing a course for you:
First, you should assess your current level of knowledge and experience. Are you just starting in the Android Development Course field, or are you already familiar with the basics? Knowing your current knowledge and experience will help you choose the right course.
Next, you should look at the course offerings available. Look for courses that focus on topics relevant to your goals and interests. Different courses may offer different topics and levels of complexity. There may also be other certifications or qualifications that the course offers, so be sure to check those.
Finally, look into the instructor and course materials. It is important to ensure that the instructor is knowledgeable and experienced in the field. Also, ensure that the course materials are up-to-date and relevant to the current trends and technologies.
Choosing the best course for you is essential for those pursuing a career in this field. With the right course, you can stay up to date on the latest trends and technologies and ultimately become a successful Android Development professional.
Why Learn Android App Development with TOPS?
TOPS Technologies is a leading Android institute in India with flexible classrooms and online Android classes. We have a team of qualified mentors to help you gain the knowledge and expertise required to develop dynamic apps. Our mentors will teach you coding, designing, and develop Android mobile apps to help you get the best job in the competitive field of Android app development.
Our Android Training Facilitates the Following:
A project-driven learning approach to help you understand the real-time implementation of theoretical concepts. By enrolling in our
online Android course
, you will learn about Android Studio, Android UI, and many more.
The nature of our Android training is personalized with one-on-one sessions from industry experts. This way, you can understand the fundamentals and learn to utilize several tools and techniques to build responsive Android applications from scratch.
We also provide placement assistance after completing our course to help you kickstart your mobile development career. With industry-recognized certification and
live project Training
, you can build a portfolio and catch the attention of potential employers.
What to expect from this Android Development course?
If you're looking for the Android Development Course, look no further than ours! Here's why our course is the best:
Our course is taught by experienced professionals who know the ins and outs of Android Development.
We cover everything from the basics to the most advanced concepts, so you'll be sure to learn everything you need.
We provide ample opportunity for hands-on practice so that you can get a feel for the material.
Our course is updated regularly to ensure you learn the most up-to-date information.
So if you're serious about learning Android Development, our course is the perfect choice for you!
Who can enroll in our Android Development Course at TOPS Technologies?
Our Android Development Course at TOPS Technologies is the perfect place for you if you want to learn Android Development. Anyone can enroll in our course, regardless of prior experience or knowledge.
TOPS Technologies offers the Best Course On Android Development that covers all the essential topics you need to know about Android Development, from the basics of creating a simple app to more advanced topics like databases and integrating with web services. You'll come away from our course with a strong understanding of how to develop Android apps, and you'll be able to put your new skills to use immediately.
So if you're interested in learning Android Development, don't hesitate to sign up for our course. It's open to anyone who wants to learn, and we think you'll find it a valuable investment of your time.
Enroll in the Best Android Classes to Land a Great Job!
At TOPS Technologies, we can help you learn how to build well-organized and accessible mobile applications on the Android platform using the latest technologies. We have qualified tutors to offer comprehensive Android training to candidates looking to establish a successful career in the IT sector. 
Have any questions regarding our course? Feel free to tell us at
inquiry@tops-int.com
or call on +91 7624007666!
Conclusion
Android Development is a great career path for anyone interested in staying up-to-date with emerging technologies and creating innovative mobile applications. With its ever-growing user base, Android provides a wide range of opportunities to develop professionally and financially. The Android platform also offers a great way for developers to build useful and entertaining applications for users worldwide. With its versatile and powerful capabilities, Android will remain a popular platform for many years.
At
TOPS Technologies
, we provide the Best Android Development Courses for beginners and experts. Our course is designed to teach you everything you need about Android Development regardless of your current experience level. We guarantee that our Android Development course With Certificate will help you become an expert in Android Development in no time.
Our Android Tutorial covers various topics, including UI/UX design, Android architecture, mobile application development, Android SDK, and advanced features. You will be given comprehensive instructions on how to create and deploy. So, if you are looking for the Android Course, look no further than TOPS Technologies. Our courses will give you the necessary knowledge and skills to become a successful Android developer. With our comprehensive instruction and guidance, you can create and deploy Android applications with ease and confidence.