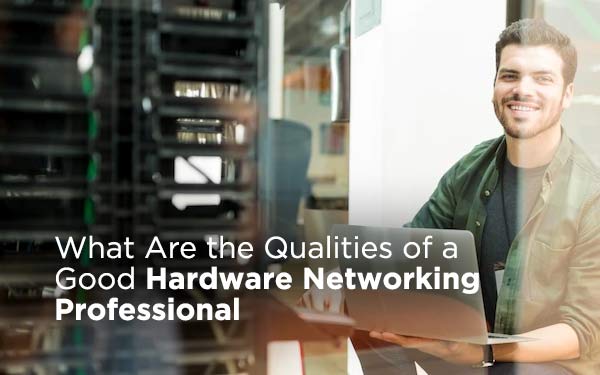 With the world growing increasingly dependent on computers and technology, there is a rise in demand for skilled networking professionals. You would be surprised to know that despite the growing number of software professionals, the well-being of the technological infrastructure of an organization rests on the shoulders of good hardware networking professionals. So if you are keen to pursue a career in hardware networking, you must first enroll for a hardware networking course and develop the following skills to excel in your career:
Qualities Needed in a Good Hardware Networking Professional
Sharp Problem Solving Skills

A good hardware networking professional must have the tenacity and expertise to figure out the issue in a maze of computer networks. With so many systems at work at the same time, computer networks often look like a puzzling maze. Different systems from different manufacturers follow different standards. So when they are put together, and an issue arises, a skilled and experienced hardware professional will use his problem-solving skills to figure out the issue and solve it. You can learn all about problem solving in

hardware networking courses

by Tops Technologies!
Analytical Thinking

Hardware networking is a field that involves logic. Hence, analytical thinking is a must for good networking professionals. A hardware networking professional should have the ability to analyze networking issues with clarity and rationale. This is particularly important when making decisions regarding network capacity planning, hardware replacements, or other network operations. The professional should be able to anticipate the effects of a new addition to a network and act accordingly. He should also be take into consideration the security of the network and ideally should have taken a cyber-security course to be able to comment on the security of the system.
Mathematics Skills

Did you know networking professionals need to use their mathematics skills daily? All modern computing systems rely on numerical addressing, known as IP addresses, for device-to-device communication. Network administrators must plan and manage these IP addresses. A good networking professional must have a thorough understanding of binary notation and other mathematical operations. Also, network technicians are required to calculate the required capacity, available bandwidth and manage quality-of-service policies network-wide. So, good knowledge of mathematics is an essential skill for networking professionals.
Get 100% Job Placement

support & get placed in your dream company

---

---