Take Your Career to the Next Level with Our iOS Course in Rajkot
As the demand for iOS development is rapidly increasing, our iOS course in Rajkot is providing invaluable assistance to many aspiring developers by helping them secure employment in large tech companies.
In recent years, iOS has seen a tremendous rise in popularity in India. According to a report, the iOS App Store in India has seen an amazing growth of over 600% in downloads in the last three years. The revenue generated from the App Store in India has grown by over 400% in the same period, indicating that Indian customers are increasingly spending more money on mobile applications.
"80% of people who completed a course in iOS development from a reputed institute in Rajkot landed a job in one of the big tech companies in 2022"
The increasing popularity of iOS in India is also reflected in the number of active users. As of 2023, there were over 145 million active iOS users in India, up from just 50 million active users in 2018. This growth can be attributed to the fact that more Indians are using their iPhones to access the internet and consume content, as well as the fact that the Indian smartphone market is becoming increasingly saturated with iPhones.
Here, we'll go over the advantages of taking an iOS Course and offer useful guidance on selecting the best one. Also, it covers how receiving iOS training in Rajkot might improve your comprehension of this fascinating subject.
What is iOS?
Apple developed the iOS operating system for its mobile devices, including the iPhone, iPad, and iPod Touch. It is based on the Unix-based Darwin operating system and is, after Android, the second most widely used mobile operating system globally.
iOS is renowned for its simple-to-use design, robust functionality, and extensive selection of apps accessible on the App Store. It is the basis for several of the iPhone's most well-liked features and services, including FaceTime, Siri, and Touch ID. Also, many third-party applications are created for iOS, like Instagram, Snapchat, and Netflix.
iOS is always developing and becoming better. Being a closed-source operating system, iOS is developed and distributed under Apple's supervision, and only Apple-approved applications may be downloaded and installed on iOS-enabled devices. Users' freedom to personalise their devices is constrained, making the system more resistant to malware and other security risks. New versions of iOS are often released to add features and fix security flaws.
What Do iOS Courses Teach?
Anyone may master the fundamentals of creating apps for Apple's mobile operating system by taking an iOS app development course. In these courses, students learn the essentials of iOS platform coding, including using the Xcode development environment, the Cocoa Touch frameworks, and the Swift programming language. iOS app development courses also go over subjects like UI design, developing applications for mobile devices, and debugging. They also teach crucial information on mobile device architecture, design principles, and performance enhancement.
Moreover, many iOS training in Rajkot include:
Lessons on handling customer service.
Developing marketing collateral.
Submitting applications for review in the App Store.
An iPhone course could even go into game production, teaching pupils about the rules, visuals, and audio of video games. Moreover, these classes give students the know-how to build unified applications running on all Apple products, including iPhones, iPads, and Apple Watches.
Why Is iOS The Best Job?
Development Opportunities
iOS offers developers the ideal platform to create extraordinary, ground-breaking, and one-of-a-kind applications and software because of its extensive development capabilities. Whether you are a beginning developer or a seasoned veteran, iOS delivers the information and tools you need to help you produce high-quality apps that may assist organizations in achieving their objectives.
The possibilities are infinite with iOS, from building software that may speed up corporate procedures to building applications that enhance customer service. iOS developers may easily obtain the support they need to build the ideal apps, from tutorials to online groups. Also, developers are offered many tools to ensure they make the most of the platform.
Compensation
iOS developers may profit from their high demand by requesting greater compensation than those seen in other industries. Because of this, working with iOS is a fantastic opportunity for anybody searching for a position with excellent pay and benefits. Businesses are prepared to spend more on salaries and perks because they appreciate the value iOS engineers provide to their companies.
Employers may be certain that they are hiring the greatest personnel for their company, which is also fantastic news. To guarantee they recruit the finest staff, they often provide extra benefits like bonuses, stock options, and other incentives in addition to their competitive salary. This is fantastic news for people seeking employment in the iOS industry since they can now access high wages and benefits.
"Employers in Rajkot are five times more likely to pay more for an applicant with an iOS certification than one without."
Career Growth
Career advancement prospects for iOS developers are very bright. There are many available openings for experienced developers to take advantage of due to the rising demand for iOS developers. Experienced developers can take on more challenging projects and further their careers thanks to the various development options accessible to iOS developers. Because of this, iOS is a fantastic option for anyone trying to develop their career.
iOS developers with the necessary abilities may find jobs matching their expertise and advance quickly. Moreover, since the iOS platform is always changing, developers continually pick up new skills and remain current with cutting-edge technology. For this, iOS programming is a desirable pitch for seasoned developers wishing to further their careers.
Global Reach
Millions of people regularly use iOS, one of the world's most well-liked mobile operating systems. Given that it is the most popular mobile operating system and is accessible in more than 150 countries, it is a fantastic option for people seeking employment in the IT sector. This implies that businesses searching for computer skills may quickly locate knowledgeable iOS specialists anywhere in the globe.
Also, consumers can access various options, from tiny startups to big multinationals, since iOS is widely used. Moreover, iOS is continually updated and enhanced to help consumers remain current with innovations and maintain a competitive edge in the job market. This implies that iOS is a fantastic alternative for whatever profession you seek.
Job Satisfaction
"62% of employers in Rajkot are willing to pay salaries that are 10-20% higher than comparable jobs in other cities."
Since it provides a high degree of work satisfaction, many people find iOS development careers appealing. Working on topics that one is enthusiastic about while using cutting-edge technology and having the chance to further one's career are both huge advantages. This enables iOS developers to have higher job satisfaction and enjoyment from their work. Their work is more pleasant and gratifying since they not only get to utilise the newest technology but also because they get to work on projects they are enthusiastic about.
Also, iOS developers often get the chance to work in teams and communicate with other developers, which increases their level of job satisfaction since they get to come up with fantastic things together. iOS programming is a fantastic career choice for people seeking job satisfaction since it allows them to work with cutting-edge technology, learn new skills, and work on passion projects.
Most Promising iOS Job Roles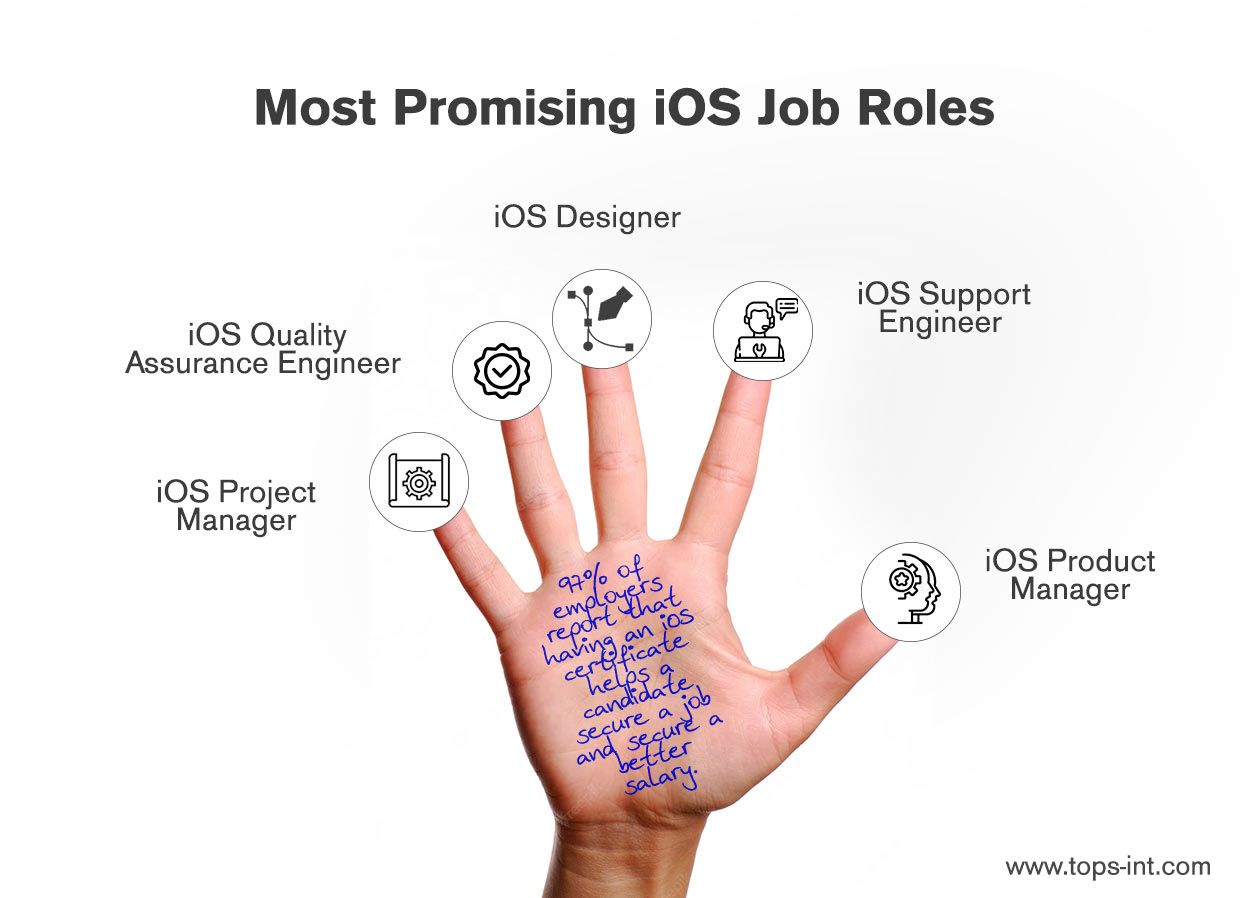 iOS Designer
The visual design of software programmes made for Apple's mobile operating system is the responsibility of an iOS designer. Apple's Human Interface Guidelines and the most recent developments in mobile app design are two things iOS designers need to be aware of. They must be meticulous, have strong visual and verbal abilities, and be able to design user-friendly user interfaces for a range of people.
Expert knowledge of the iOS platform, including technologies like UIKit, CoreGraphics, CoreAnimation, and CoreData, is essential for an iOS designer to be successful. To ensure the programme complies with Apple's requirements, they should be familiar with the Xcode development environment and capable of working with a development team. Also, they must be able to create both application prototypes and final versions.
They should also be well-versed in recent design trends and solidly grasp the mobile market. A strong grasp of user experience, including usability and accessibility requirements, is essential for an iOS designer. A typical iOS Designer can earn up to 14 Lakhs Indian Rupees (INR) per year.
"97% of employers report that having an iOS certificate helps a candidate secure a job and secure a better salary."
iOS Support Engineer
Providing technical assistance for Apple's iOS operating system falls to an iOS support engineer. This entails resolving hardware and software issues and offering users technical guidance and support. The support engineer must be versed in hardware, software, networking, and security facets of the iOS platform. Also, they should be able to utilise the various tools to troubleshoot problems and have a thorough grasp of the iOS development process. An iOS Software Engineer could make up to 13 Lakhs Indian Rupees (INR) annually.
Excellent interpersonal, communication and problem-solving abilities are required of the iOS support engineer. They must feel at ease dealing with end users of all technical proficiency levels and be able to clearly and understandably convey technical ideas. The engineer must identify a problem's underlying causes and provide a workable solution.
iOS Product Manager
An iOS product manager has a rewarding and difficult job. This position entails managing every stage of an iOS product's life cycle, from the original idea and design through the launch, upkeep, and continued development. It calls for a blend of management, technical, and strategic abilities. An iOS Software Engineer could make up to 19.4 Lakhs Indian Rupees (INR) annually.
A solid grasp of the iOS platform and its development tools is necessary for the technical part of the work. This involves familiarising yourself with the many frameworks, APIs, and SDKs used to develop iOS apps.
To handle any difficulties during development, the product manager should also have expertise in developing and debugging iOS applications. Managing the development team and ensuring that all tasks are accomplished on time and to acceptable standards are part of the management component of the job.
"As of 2023, iOS developers are some of the most in-demand professionals worldwide."
iOS Quality Assurance Engineer
Each iOS application's development needs a quality assurance engineer who plays a crucial role. They are in charge of ensuring the software fulfills the quality requirements established by the customer or the developer. The engineer will test the application and ensure that it functions properly and effectively in various ways. Also, they are in charge of assessing the application's usability and user experience. An iOS Quality Assurance Engineer could make up to 20 Lakhs Indian Rupees (INR) annually.
An in-depth knowledge of iOS development and programming languages and a firm grasp of the Apple ecosystem are prerequisites for becoming an iOS quality assurance engineer. They must also possess strong organizational and communication skills and strong problem-solving abilities. They should also know software testing fundamentals, including unit testing, integration testing, and performance testing.
iOS Project Manager
An iOS project manager has a lucrative and hard job. You will oversee every stage of an iOS project's life cycle, from conception to conclusion, as an iOS project manager. You will be in charge of everything, including creating project plans, supervising and coordinating operations, keeping track of progress, and fulfilling deadlines.
You need to be well organised, have a sharp eye for detail, and be able to collaborate with a variety of team members to succeed in this position. An iOS Project Manager Engineer could make up to 16.3 Lakhs Indian Rupees (INR) annually.
Overall, the job of an iOS project manager necessitates excellent leadership abilities, technical expertise, and the capacity to handle a variety of duties. Moreover, you must be well-versed in the iOS platform's different technological elements and development procedures. Also, you should be proficient in using various project management systems, including Jira and Trello, and have a solid awareness of the best practices for software development. Lastly, you must be able to encourage and inspire team members to reach project objectives via effective communication with stakeholders.
If you want to land a great job in iOS development then enroll in an iOS development course. You will learn everything you need to know and many IT Training courses offer placement assistance which can help you land your dream job!

Industries That Hire iOS Professionals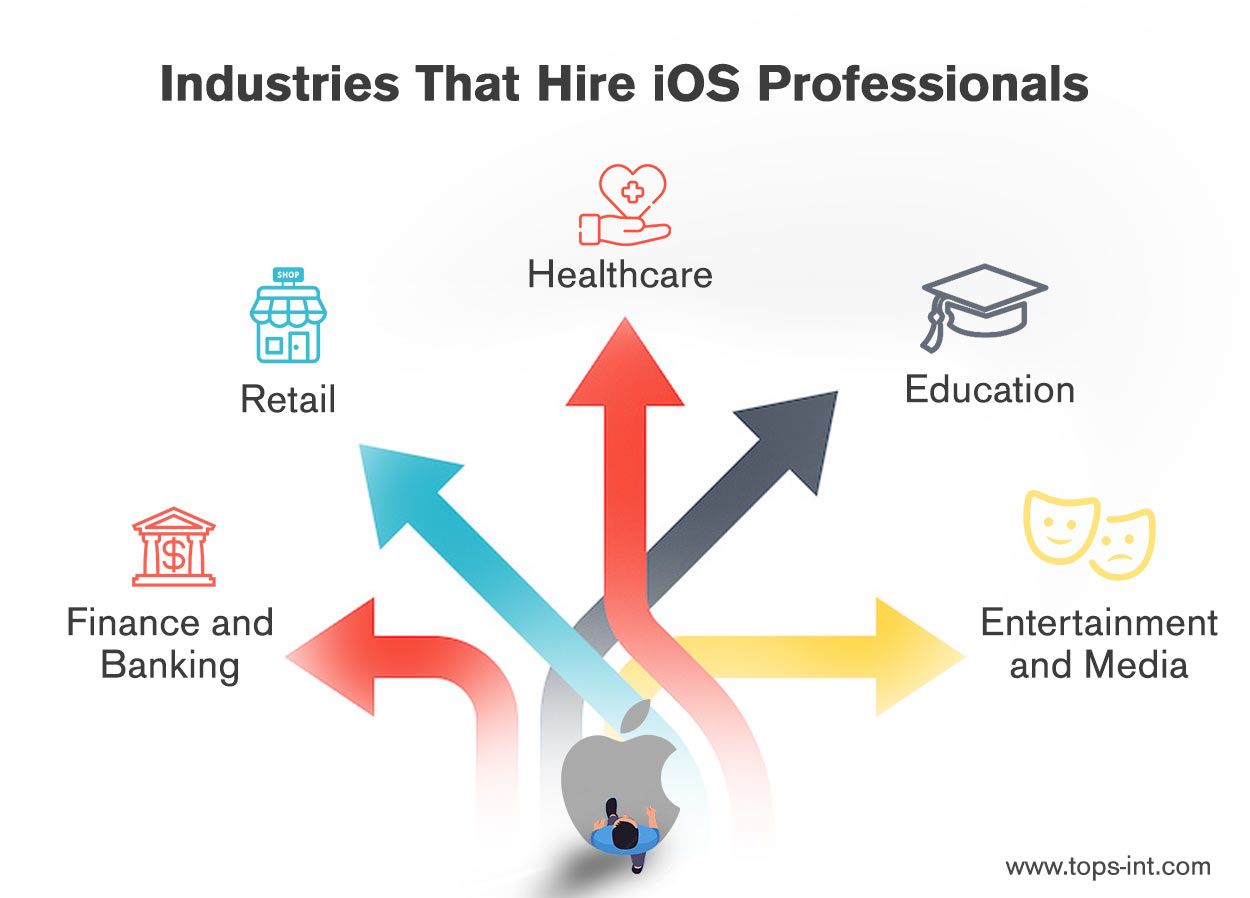 Finance and Banking
Recently, the need for iOS specialists in the banking and financial sector has increased unprecedentedly. It should come as no surprise that banks and other financial organizations spend a lot of money on mobile apps for their clients.
These applications can provide users with a wide variety of functions beyond just tracking and managing their money because they draw on the capabilities of the iOS platform. These features, which may all be very helpful for clients, include real-time account monitoring, secure payment processing, and individualized financial guidance.
Internal operations are becoming more efficient due to mobile applications in the banking and financial sector and consumers. Banks can provide better customer service and run more successful mobile app marketing and advertising campaigns.
Retail
The retail sector is using iOS's potential to increase its consumer base. Retailers are creating mobile apps to aid consumers in searching, seeing product information, and making purchases. These apps often come with loyalty programmes that incentivise clients to return by rewarding them for completing purchases. These apps must be developed, maintained, and optimised by iOS specialists if they are to function effectively.
This involves ensuring a smooth user experience and that the apps are safe. Retailers depend on iOS experts to help them remain competitive because they recognise the importance of having the most recent technology. To reach all possible client markets, merchants must be present on the platforms where iOS is getting increasingly popular.
"According to research, there has been a 48 percent increase in demand globally for iOS professionals in the last year alone."
Healthcare
For the creation and upkeep of mobile apps, the healthcare sector is increasingly turning to iOS specialists. These programmes, which may be used to maintain medical records, monitor patient data, and make appointments, are becoming increasingly important in the medical industry. These apps may provide healthcare providers with a safe and effective way to access and manage patient data using the iOS platform's features.
Healthcare businesses may produce safe, effective, and simple apps using the iOS platform's potential. Medical practitioners, who must ensure that patient data is kept safe and secure and that the information can be accessed quickly and readily, should pay particular attention to this. Healthcare businesses may work with iOS experts to develop apps customized to their unique requirements, guaranteeing the security of the data and the highest level of process efficiency.
Education
Mobile apps are at the forefront of the shift in the education sector. With safe and effective mobile apps, instructors may now provide students access to course materials, monitor their progress, and give comments. Educators may utilise various tools to manage and retrieve student data using the iOS platform's features. These tools allow for the customization of feedback for each student, guaranteeing they have the best learning experience.
"The demand for iOS developers is expected to grow by 15 percent this year."
Entertainment and Media
The media and entertainment sector use mobile apps to reach a larger audience. Since they provide a quick and safe means, these apps may be a wonderful way for users to access and manage their media.
Users of the iOS platform have access to a wide range of movies, TV programmes, and music, as well as marketing materials for musicians and performers. This offers media and entertainment professionals a fantastic chance to connect with prospective customers and advertise their goods.
How To Start Your Career in iOS?
Develop a Portfolio
A portfolio is needed in every job. It is an excellent approach to demonstrating your skills, talents, and knowledge. Include apps you've worked on and other tasks you've completed when creating a portfolio.
This will give prospective employers an idea of the kind of job you are capable of. Any blogs, articles, or lessons you have authored should also be included. This is a fantastic method to show that you understand the development process and have excellent communication skills. Include any honors or certificates you have received as well since they serve to further highlight your abilities.
Lastly, provide screenshots of your work and any client comments. Employers will better know your work and how it is accepted. Building a thorough portfolio can put you well on your road to a rewarding career in development.
Network with Other Developers
Each job requires networking, but iOS developers need it more than anybody else. Success in this industry depends on forging connections with other developers. Several methods exist to locate and get in touch with other iOS developers. You may connect with and communicate with other iOS developers via online groups and forums. These forums are an excellent location to ask questions and gain guidance since they provide a lot of knowledge and support.
Another fantastic approach to network with other developers is attending conferences and seminars. Also, you may interact with individuals online or join regional development organisations in your area. In the end, networking is a crucial ability for iOS developers since it may help them advance their knowledge of the field and forge connections with other experts.
Take an iOS Course
It's a terrific idea to get iOS training in Rajkot if you're just learning how to create applications for iOS. It may not only be a terrific method to rapidly brush up on the fundamentals of iOS programming, but it can also provide you with the abilities and information required to create applications for iOS.
You may thoroughly understand the iOS development process by enrolling in an iOS development course, from the fundamentals of building an app to more complex ideas like debugging and publishing. Also, working with the Xcode programming environment and the iOS SDK will provide you with invaluable expertise. The nicest thing about taking iOS training in Rajkot is that you'll have a competent teacher to assist you along the way and be able to study at your speed. So, enrolling in an iPhone course is undoubtedly an excellent place to start if you're interested in learning how to create applications for iOS.
Get Familiar with the iOS Platform
It's crucial to familiarise yourself with the system before developing applications for the iOS platform. You'll have a better knowledge of the platform's operation and the many tools you need to create applications if you're more familiar with it. Keeping up with the iOS platform's features and capabilities is crucial since they are subject to frequent change.
You can create more powerful and user-friendly applications with the necessary information. You may thoroughly grasp the platform using the tools Apple provides for developers, such as the iOS Developer University and the iOS Developer Library. You may enroll in an iOS development course to get even more insight.
How to Choose the Right iOS Course for You?
Assess Your Current Skills
The first step in selecting an iOS tutorial is to evaluate your current skill level. You can make an educated choice if you are aware of what you already know and what you still need to learn. Consider your background in programming languages and other areas of software development before choosing an iOS tutorial. Consider how easily you were with the different technical topics and gauge how well you understood them if you have previously attended any courses relating to iOS programming to learn iOS development.
The easiest way to choose an iOS development course in Rajkot is to assess your skill level and look for a course that suits your learning requirements. This will enable you to focus on a few possibilities and choose the iOS training in Rajkot that best fits your learning goals and ability level.
Consider Your Learning Style
Choosing an iOS course that fits your unique learning preferences while studying the operating system is crucial. Finding an iOS course that works best for you is crucial since everyone learns differently. Do you learn best by seeing? Are you a visual learner? Those who learn best by hearing are auditory learners. Or are you a hands-on, kinesthetic learner?
Choose an iOS Certificate Course that delivers the teaching strategies that best meet your requirements. For instance, if you learn best by doing, seek an iOS course with plenty of hands-on activities. You may learn by doing this way and get the most out of the iOS development course in Rajkot. Finding the proper iOS course depends on your learning style, but there is a course for everyone.
Research Different Course Types
Considering the various iOS certificate course options before enrolling in an iOS training is crucial. There are benefits and drawbacks to taking courses online, in person, at your speed, or under an instructor's guidance. Online courses are fantastic for students who can manage their time and study alone. They often provide greater flexibility than in-person classes and let you study from any location. For people who want more structure and hands-on instruction from a tutor, in-person classes are the best option. There are no due dates or assignments in self-paced courses, so they are perfect for those who don't need to be held responsible for their academic progress.
On the other hand, since they are overseen and monitored by a qualified teacher, instructor-led courses are excellent for people who need additional help and supervision. The kind of iOS training that is right for you ultimately depends on your learning preferences, objectives, and availability. Be sure you do your homework and choose the programme that is best for you.
Identify Your Goals
Knowing what you want to learn about iOS is crucial when selecting a course. Consider the precise abilities you wish to gain and the tasks you'd want to complete. Depending on your goal, you could concentrate on code, design, or a mix of the two. You may reduce your options and choose the ideal iOS institute by determining your objectives and knowing the necessary information.
Be sure the iOS institute you choose includes the subjects you are interested in and that it meets your requirements. To confirm that the course is accurate and thorough, it's a good idea to look up the instructor's qualifications and previous students' reviews. You may get the information and abilities you need to succeed in app development with the iOS training institute in Rajkot.
Look for Flexibility
While choosing an iOS course, it's crucial to consider your time constraints and choose the one with the greatest flexibility. You may choose the best format from the many flexible options offered by many iOS app development courses, including online learning, self-paced learning, and part-time study. Also, it is advantageous to seek programmes that provide additional assistance, such as tutoring or one-on-one assistance.
You may get the assurance and information you need from this to be successful in the iOS training institute in Rajkot. Finally, finding an iOS course that meets your requirements and schedule will help to guarantee that you understand the information and get the most out of the iOS development course.
Conclusion
A good method to increase your knowledge and abilities in app development is to enroll in an iOS training center in Rajkot. You will get the knowledge and abilities necessary to design and oversee various iOS applications, from simple games to intricate business-level programmes. You will also acquire knowledge of the Apple development environment, allowing you to use its tools and technologies to create incredible applications. In the end, completing an iOS course may help you grow into an app development expert, allowing you to produce applications that can be sold or utilised to the advantage of your business.
TOPS Technologies is revolutionizing the way we learn about technology with their iOS training center in Rajkot. This iOS app development course is designed to be user-friendly and easy to understand, making it ideal for everyone from beginners to advanced users. The course covers everything from the basics of iOS to more advanced topics, such as programming and app development. It also includes helpful tutorials and tips to help you get the most out of your device. With this iOS app development course, you can become an iOS expert in no time. Best of all, it is available for free, so you can start learning right away. Whether you are a novice or an expert, our iOS Course is an invaluable resource that will help you gain the knowledge and skills you need to become an iOS expert.
We are a top-rated iOS training center in Rajkot! Enroll today!