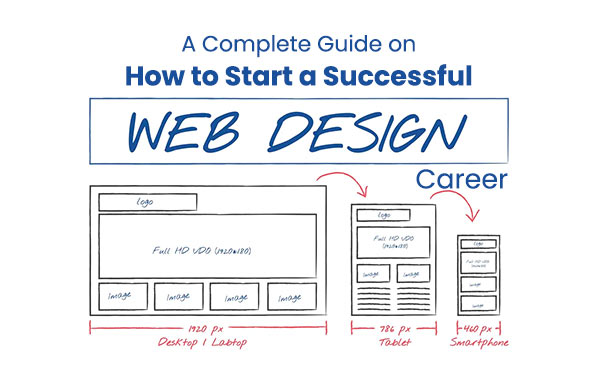 The number of websites has increased at a rapid rate. The total number of websites in 2010 was 210 million. Today, there are over 1.8 billion websites online.
Web Design is the process of creating websites and web pages so that they are visually appealing and easy to use. It is the art of creating a digital space that makes it easy for visitors to find what they are looking for.
Being able to make an excellent first impression is why Web Design is a crucial component of marketing. Visitors will make their decisions about whether or not to stay on your site based on appearance alone. A well-thought-out website can help your company to stand out in the crowd and make it easier for potential customers to find you online.
Web Design helps to create a positive first impression. As a result, it has become an important part of any business, not just because it looks good but because it also helps with conversion rates. A well-designed website can increase your conversion rate by up to 20%.
One of the reasons for this increase is the advancement in technology, which has allowed companies to provide their products and services online. This has led to more people being able to start their own businesses, sell their products and promote themselves through the internet.
A well-designed website is a key to building a successful online presence. It is a necessity to get noticed on the internet. The internet has become an integral part of many people's lives, and it's only getting more popular. More than 3 billion people are now connected to the internet, and that number is only going up. Therefore, businesses need a website that appropriately reflects their brand and communicates their message to reach their target audience.
Web Design is not just about what something looks like. It's also about how it functions. It can be broken down into three key components: aesthetics, usability, and search engine optimization (SEO).
Aesthetics refers to the visual appearance of a site. Web Designers use colour schemes, fonts, graphics and images to create an attractive website that compellingly conveys the brand's message. Usability refers to how easy the website is for people to use and navigate. Usability is created by ensuring the site has clear links and easy-to-understand text and graphics. Finally, SEO refers to how well a website performs in terms of appearing high on search engine results pages (SERPS). SEO is determined by having proper keywords, meta tags, and links.
This industry is evolving and continuously changing to cater to the needs of the users. Therefore, design trends are also changing with time. Web Designers are constantly trying new ways to make their websites look more appealing and user-friendly.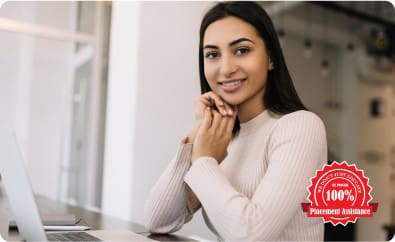 Get 100% Job Placement

support & get placed in your dream company
---
---
Why Has Web Designing Become So Popular?

Our daily life and the internet have merged seamlessly. It is the most popular way to communicate and has also become a significant source of information. The internet has consequently altered how we live, work, and play. More people are using the internet than ever before, which is why Web Designing has become so popular.
Web Design is a popular career choice because it offers many opportunities for creativity, freedom, and financial stability. It is also popular because it is an industry that offers many different career paths and opportunities.
The internet has made it possible for people to work from anywhere in the world and still be able to do their job. The accessibility that Web Design offers is the reason why it has become so well-liked.
Due to its versatility, Web Design has gained popularity as well. Web Designers can create websites for any type of business or organization, whether a small business or a large corporation. They can also create dynamic, interactive, engaging websites, making them perfect for companies that want to attract more customers.
Because it plays such a crucial role in marketing, Web Design has gone mainstream. It is the first impression that your website gives to your customers. It is the first interaction they have with your brand.
The Web Design industry has become so popular that it is now one of the fastest-growing industries in today's world.
What is the role of a Web Designer?

One who builds and designs websites is known as a Web Designer. Their work affects how a website appears and operates. They are responsible for everything from the layout to the graphics and images to the colors and fonts.
A Web Designer is a creative professional who specializes in the design of websites. Their role is to ensure the website looks good and is user-friendly. They are responsible for the design and usability of the website. They also provide a website content strategy, including text, images, videos, and other media.
The responsibilities may vary depending on their role within an organisation. However, some responsibilities are common across all levels of experience, which include:
– Designing Layouts for Websites
– Creating Graphics (Logos, Buttons, Icons)
– Designing Digital Advertisements
– Creating Wireframes and Prototypes
– Creating Colour Schemes
– Creating Typography Styles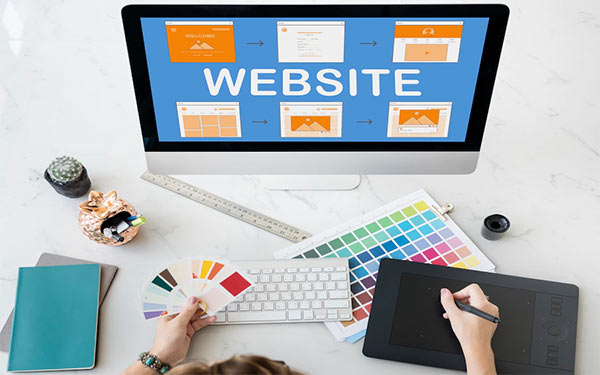 Web Designers use various tools like Adobe Photoshop, Adobe Illustrator, and Sketch to create mockups and wireframes. They also use HTML and CSS to develop the website's layout and structure.
Web Designers are the people who conceptualize, develop and code the internet sites and web pages that we use every day. They combine text with sounds, pictures, graphics, animations and other multimedia elements to create a unique web experience for their users.
Web Designers need more than just creativity to succeed in this competitive industry. They also need an understanding of how web browsers work, a knowledge of HTML coding and a good understanding of design principles.
A successful Web Designer needs to be able to communicate well with clients, understand their needs and work within their budget constraints.
Skills of an Expert Web Designer

Web Designers have a vast range of skills and competencies. They are responsible for understanding the client's needs, designing a website that is easy to navigate and attractive to the eye, and can be built on a tight budget. The following are 10 skills Web Designers should possess to do their job effectively.
1) Understanding the User Experience
A Web Designer must understand the user experience because it is their job to ensure the website is user-friendly and easy to navigate. They should be able to create a website that can be accessed from any device, screen size, and browser. Having a website that works on different devices is important because not everyone uses a desktop computer.
2) Understanding How to Use HTML, CSS and JavaScript
If you're looking to be a Web Designer, you must know how to use HTML, CSS and JavaScript. This is the foundation for any Web Design project.
– HTML is the language of the content on the internet.
– CSS is a set of rules that tell browsers how to display HTML content on a webpage.
– JavaScript is used for interactive features like buttons, menus and animations.
3) Understanding the Principles of Good Design
The principles of good design are what an expert Web Designer should understand to create an aesthetically pleasing and functional website. Good design starts with the user experience in mind. A website should be easy to navigate, responsive, and have a clean layout that's free of clutter. It should also contain an interactive navigation menu, clear CTAs, and a simple contact form that's easy to fill out. Here are a few illustrations of sound design principles:
– Line, Shape and Form
– Balance
– Proportion
– Hierarchy
– Contrast
– Emphasis
– Movement and Flow
4) Understanding How to Create Wireframes
A wireframe is a visual guide that helps the designer present their design concepts in a more concrete form. For example, one can use it to show a website's layout or the flow of an application. In addition, wireframes are often created to help communicate design ideas to stakeholders.
Web Designers should create wireframes if they want their designs and ideas to be communicated effectively and accurately. They should also understand how to create wireframes because it helps them develop better designs for websites or applications.
5) Understanding Usability Testing
Usability testing is a technique for measuring the effectiveness of a website by testing it with real users. It helps designers understand how users use their website and what they find confusing or difficult. Usability testing is an essential part of the design process because it helps designers identify problems early on before investing too much time and money into designing something that doesn't work well for real users.
6) Knowledge of Web Accessibility Guidelines
A Web Designer should be aware of the web accessibility guidelines. It is essential to know that the guidelines are not just for people with disabilities but also for people using browsers other than Internet Explorer.
A Web Designer should be aware of the following guidelines:
– The website should have a text equivalent for every non-text element on the page
– The website should provide captions and transcripts for video content
– The website should provide closed captions or subtitles
– A user agent's configuration must not have any features that interfere with accessibility
7) Knowledge of Cross-Browser Compatibility Issues
The Web Designer should have knowledge of cross-browser compatibility issues. This is because they need to design their website with the most popular browsers in mind: Chrome, Firefox and Safari. If you choose to use a less popular browser such as Opera or Vivaldi as your default browser, then you will need to be mindful of how this might affect the design of your website.
There are several cross-browser compatibility issues that an expert Web Designer should be aware of. These include:
– The need to provide a version for each browser type and version.
– The need to update website content for new browser versions as they are released.
– The need to test the design in all browsers to identify cross-browser compatibility issues before publishing it live on a website.
– The need to provide a mobile version of the site compatible with all mobile devices, which can be used on the move.
– The need for a robust, high-performing site that is responsive and can load quickly.
8) Knowledge of Graphic Design Software – Programming Languages – Server-Side Languages
A Web Designer should know graphic design software such as Adobe Photoshop or Gimp to create website graphics, buttons, and other images used in web pages.
They need to have a good knowledge of programming languages like PHP or Java. This is because they are the foundation for many websites and web applications. These programming languages are used to develop dynamic pages that can be customised with user input.
They should also have knowledge of server-side languages like ASP.Net or Ruby on Rails to create a website that can be scaled to meet the demands of the traffic and can also be easily updated with new features in future.
9) Ability to Work With CMSes
A Web Designer should have a good knowledge of CMSes like WordPress and Drupal. These CMSes are used to create websites and blogs. They provide a lot of flexibility to Web Designers so they can design websites according to the client's needs. These CMSes ensure designers can create websites that will be easy to update, maintain, and keep up with current trends.
10) Developing and Implementing Responsive Website Designs
In today's digital world, businesses are more reliant on websites than ever before. In fact, it has been reported that more than two-thirds of online shoppers will abandon their purchase if they cannot find what they are looking for on a company's site. It is at this point that responsive website design is useful.
A Web Designer should be able to develop and implement responsive website designs. This includes understanding that the design for a website must be responsive, which means that it will change the way it looks based on what device is being used to view it.
How to Start a Career in Web Designing?
Web Designing is an art and a science requiring graphic design, programming, usability engineering and marketing skills.
This profession has evolved over the years, with more and more people entering the field daily. So how do you start a career in Web Designing? Here are some tips to get you going:
1) Get a Degree
There are many different paths you can take when it comes to a career in Web Design. You can either get a degree in Graphic Design or Computer Science/Programming and learn how to design websites. A degree can help you understand how to design websites as well as the business side of website creation.
2) Take a Course
With the onset of technology, Web Design courses are becoming more and more popular. They provide an excellent way for people to learn with Web Design tutorial and start a new career. If you want to change careers, taking a course will be the best way to start. You don't have to invest in a degree, but it will help you make your own website.
3) Learn HTML, CSS and JavaScript
All these three languages are important for the development of websites, and the combination of all three languages makes it easier for web developers to create more complex features on their websites. However, Web Designers must be skilled in all these languages to create a website from scratch. You can learn how to code these languages by reading tutorials online and taking a programming course.
4) Create a Portfolio of Your Work
If you want to start your career as a Web Designer, you need a deep knowledge of design that only comes from years of experience. A good portfolio will help you showcase your knowledge and talent as well as get jobs.
The portfolio should contain the following things:
– Your own design work, for example, logos, brochures, posters, flyers etc.
– Work that you have done for other people or companies (bonus points if they are well-known companies)
– Design pieces that you may not have created yourself but which inspired you in some way
5) Join a Design Firm
A design firm is an excellent way to learn more while learning Web Designing skills necessary to start a career from scratch. Design firms also provide an opportunity for budding designers to work with clients on their own projects while learning from the experts.
6) Get Your Hands Into Creating Websites
You can register at a website like 99designs, where you can submit your design ideas for other designers to compete. This will teach you how to create websites as well as give you design ideas.
Join the Web Design Course Now!
What is Web Designing Career Scope?
Web Designing is a profession that can be pursued by anyone, irrespective of their educational background. It is not just about designing a website but also about creating an experience for the user.
The scope of Web Designing is enormous, and there are many opportunities to explore. There is no limit to what you can do in this profession. You can always get better at your craft and learn new skillsets. Web Designers have the power to change the world with their creativity and imagination.
Web Designing has been a popular career option for many years. The demand for Web Designers is increasing day by day because of the unprecedented growth in the number of internet users. This trend is expected to continue in the future as well, which will lead to more job opportunities.
The following are some of the benefits that make this profession so popular:
-You can work from home, which makes it ideal for parents who want to spend more time with their children.
-You get to set your own schedule and pace for work.
-It's a creative profession where you can express your creativity and develop innovative ideas.
-Jobs are available worldwide, which means you can choose to live anywhere you want as long as there is the internet.
Many companies are looking for people with Web Design skills and the right mix of education and experience. Web Designers are in high demand, and many job openings are available. There are several positions in this industry. A few of them include:
– Web Designer
– Front-End Web Developer
– Front-End Designer
– UX/UI Designer
– Product Manager
– Visual Designer
– Interaction Designer
– Mobile Developer
Languages You Must Learn To Become A Successful Web Designer
Web Designers need to know at least one programming language. The most popular languages are HTML, CSS, JavaScript and the like. These languages allow you to create web pages and make them interactive. In order to become a successful Web Designer, it is essential to learn these three languages in-depth.
The first language you should learn is HTML. HTML is a markup language that defines the structure and layout of a website. It's also the foundation of all other languages in this list because it contains all the tags we can use to build our website.
The second language you should learn is CSS. CSS stands for Cascading Style Sheets, and it's used to style your website's content, including fonts, colors, spacing, etc. This is what makes your website attractive, after all!
The third language you should learn is JavaScript. JavaScript can be used for anything from adding simple animations to your site to creating complex games with interactive graphics. It's also one of the most common languages used in web development and a must-know for any serious web developer.
The fourth language you should learn is PHP. PHP stands for Hypertext Preprocessor, an essential tool that can also be used to build your website's backend CMS. It has a ton of frameworks you can choose from, so learning PHP is a great way to get started with web development.
How to Become a Certified Web Designer?
To become a certified Web Designer, you must start by identifying what type of Web Designing you want. There are three types: Front-End, Back-End, and Full-Stack. A Front-End Web Designer focuses on designing how a webpage looks and interacts with users. A Back-End Web Designer focuses on coding the underlying logic of an application or website. And finally, a Full-Stack Web Designer is knowledgeable about both front-end and back-end development.
TOPS Technologies is a leading provider of IT education. With a proven track record for excellence in training, TOPS Technologies has been helping students and professionals to succeed since 2006.
TOPS Technologies offers an online and onsite Certificate Course in Web Designing for Web Designers, programmers, and developers. Courses are offered at different levels – beginner, intermediate or advanced – to accommodate students of all levels. So if you are searching for the best Web Design institute near me, this is a perfect choice.
Industry experts teach the Web Design Certificate Course with 20+ years of experience. Students will learn how to design websites using HTML5 & CSS3 & other popular frameworks. They will also learn how to create responsive websites that work on any device, including mobile phones and tablets.
A certification from TOPS Technologies is a way to show that you have mastered the skills necessary to design and develop websites. This certification will not only help you to stand out from your peers, but it will also give you the confidence and knowledge to do your best work.
The Web Designer Certification Program is an intensive course that will teach you the skills needed to become a successful Web Designer.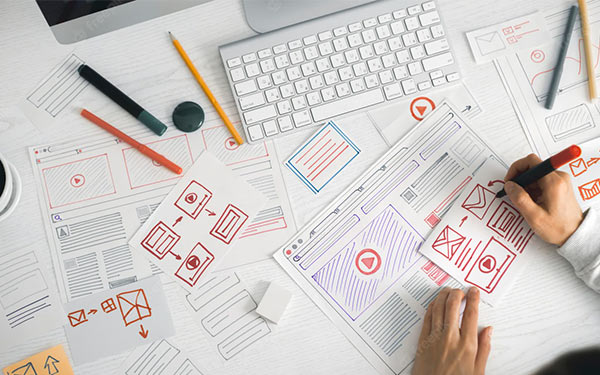 Web Design Course Curriculum Outline
The Web Design course curriculum is designed to give students a comprehensive overview of the industry and its key players. The curriculum comprises of three stages:
Introduction to Web Design
Techniques and Tools
Designing for the Web
Before enrolling in the course, you should be aware of the Web Designing course details so that you can decide if it will meet your needs. Download the Web Designing course syllabus for more information.
Enroll and Get Certified
Web Design: Information Repository
– Kick Start Your Career as a Web Designer
– How Can You Upgrade Your Web Designing Skills
– 5 Skills You Need to Become a Successful Web Designer!
– Top Job Opportunities in Web Designing
– 10 Interview Questions and Answers for Web Designing
– How to Create the Best Web Designing Portfolio?
– Questions to Ask About Web Designing Courses
– HTML 5 Web Designing/ Programming Features
FAQs
What is Web Designing?
Web Design is a profession that is concerned with the art and science of designing websites.
Web Designing Meaning: It is the process of creating and organising websites. The design process usually starts with researching the target audience and their needs. It then moves on to sketching ideas for the website's layout, followed by prototyping and testing.
There are many different types of Web Design, but they can be broken down into two categories: Static and Dynamic.
Static Web Designs are websites that are not dynamic or interactive in any way. They do not require any programming languages to create, but they also cannot be updated by users. Dynamic Web Designs are websites that allow users to interact with them through programming languages such as JavaScript or PHP.
What is Web Designing Course?
Web Designing is a creative and technical job that requires creativity and technical skills. It is an excellent profession for those who want to be a part of the internet world. Web Designing courses are available online, and you can also take up Web Designing courses in colleges.
The best Web Design courses will teach you the basics of HTML, CSS, JavaScript, Bootstrap frameworks, etc. You will learn how to design websites with Photoshop, Illustrator or other graphic software. You will learn how to create prototypes with wireframes and mockups that are interactive and responsive.
You can log into TOPS Technologies or visit your nearest center to find more information on Web Designing Course Fees, Web Designing Course Syllabus, Web Designing Course Duration, Web Designing Course Eligibility, Web Designing Course Duration and Fees.
Which Web Designer Skills Will Make Me Stand Out?
The Web Design industry is evolving and moving at a rapid pace. It is hard for any single person to keep up with all the changes in this field. This necessitates the need for a Web Designer to have a thorough understanding of the latest trends in Web Design and be able to adapt quickly to new technologies. A good Web Designer should be able to create websites that load quickly, are mobile-friendly, and work well on all devices such as desktop computers, laptops, smartphones, tablets, etc.
The skills required for Web Designing are not limited to just coding and design but also include a variety of other important skills for a promising career in Web Designing.
The following are some of the skills required for Web Designing:
1) Proficient HTML, CSS, and JavaScript skills
2) Understanding of UX/UI design principles
3) Knowledge of programming languages such as PHP, Python etc.
4) Understanding of software such as Adobe Photoshop or Sketch etc.
5) Familiarity with tools like FTP and Git etc.
Is Web Design a Good Career?
Web Design is a very rewarding and creative career. It's a job that can be done remotely, which means you can work from anywhere.
Web Design is one of the most in-demand careers today. In fact, it's the second most popular job on LinkedIn right now. Web Designers are responsible for creating websites and apps that are both visually appealing and user-friendly.
There are many reasons why Web Design is such a great career choice, but here are three of them:
– You can work remotely
– The skills you learn will never become outdated
– This industry has plenty of possibilities for expansion
How to Start Web Designing Career?
If you are looking for a career in Web Designing, you need to be aware of the fact that it is not easy to get started. The competition is high, and there are many people who want to become Web Designers.
But with some hard work and dedication, it is not impossible to become a successful Web Designer. Below are some tips that can help you start your Web Designing career:
1) Learn the basics of HTML and CSS: You can learn the basics of HTML and CSS through online tutorials or books. These two languages are used in all website development projects, so you must know them well.
2) Get an Internship: Most companies prefer candidates with internship experience because they know how to work in a professional environment. So, if you are looking to work in web development, look for an internship opportunity.
3) Learn Some Programming: Knowing programming languages such as HTML, CSS and Javascript will be helpful in your career. These three languages are the building blocks that make up websites.
4) Learn About Web Design: Most companies prefer candidates with a good understanding and knowledge of Web Design. There are various Web Design tutorial available online for learners.
5) Build a Good Portfolio: Building a good, responsive portfolio is the best way to get noticed by companies.
6) Get Some Project Experience: Projects are what land people jobs, so it is important that you have had some experience working on web development projects before you start freelancing or looking for opportunities.
How to Do Web Designing?
Any business needs a website, it's essential. It helps in transforming a company's brand and communicating with clients in a better way. Many Web Designing tools available today can help you create an attractive website for your business.
Here are some steps to follow to do Web Designing:
– Choose the right template for your website from the wide range of templates offered by different Web Design tools.
– Choose the colour scheme that matches your brand and suits the theme of your website.
– Upload images and videos related to your business on the site.
– Add content or text on each page as per requirements.
– Add navigation menus, contact us page, etc., if required by your design template or client's requirements.
What is Responsive Web Design?
Responsive Web Design is the practice of designing a website so that its content responds to the size of the screen it is being viewed on. The user experience is best when a website adapts to different screen sizes and resolutions, regardless of how they are accessed.
What Qualifications Do I Need To Become A Web Designer?
If you are interested in becoming a Web Designer, you should know that no specific qualifications are needed. However, having an eye for design and creativity is a must. A Web Designer should have the ability to understand and solve user needs. They should be able to create an effective website for different devices (mobile, tablet, etc.). In addition, they need to be able to use different types of software such as Photoshop and Illustrator.
The qualifications for becoming a Web Designer can vary depending on your industry. In general, a Web Designer needs to have knowledge of HTML, CSS, and Javascript. One can obtain these skills through different courses and certifications.
The TOPS Technologies course is designed to teach students about the latest and greatest technologies. It will cover topics like web development, cyber security, programming languages, and more. If you want to be successful in the IT field, it's important that you have a good understanding of all the latest technologies. The training course is perfect for anyone who needs to be ready for a career in the IT field. Learn android programming from our expert trainers and gain skills that are in high demand! The training course is perfect for anyone who needs to be ready for a career in the IT field. Learn graphic design courses from our graphic design training institute.
We provide the best Web Designing Course in Vadodara, Surat, Ahmedabad, Rajkot, and Nagpur with live projects and 100% placement assistance.
Author Bio:
Niral Modi works as a Chief Executive Officer at TOPS Technologies Pvt, which is an Education company with an estimated 303 employees; and was founded in 2008. They are part of the Executive team within the C-Suite Department, and their management level is C-Level. Niral is currently based in Chicago, United States.
TOPS Technologies is provide Web Designing Training in Rajkot, offering Software Training, Hardware Training Classes, Graphic Designing & Web Design Training through Live Project Training. Having tie-ups with 3000+ IT software development companies, we provide a 100% Job Guarantee in Software Development Courses. We are known for our training courses in PHP, Python, Java, Android & iOS, AspdotNet, C & C++, Angular Courses, IoT, Software Testing, CCNA, Cloud Computing, Ethical Hacking, Hardware Networking, Cyber Security Training, Digital Marketing and SEO. We also teach Laravel, Nodejs, Unity 3D Game Development, Machine Learning with Python, Data Science, and Linux server training!"