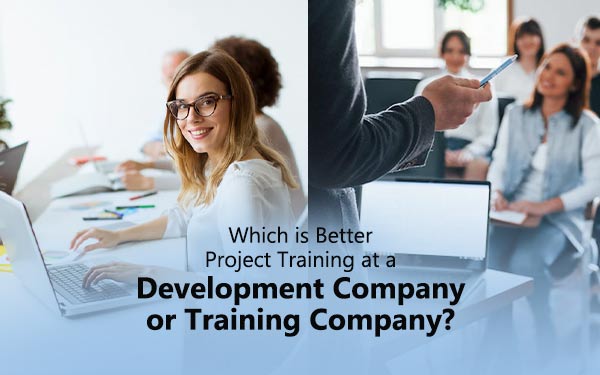 Projects are important part of technical training courses like MCA, BE IT, MSc IT etc. Hence, to carry out projects in final year most of the students turn out to IT development companies or training institutes. Now the question that arises is whether a development company is better for project training or opting to join an IT training company is a better option. There are different opinions regarding this question because while some support training at a development firm, many of them prefer IT training institutes for efficient project training. Both of them have their own set of benefits as well as disadvantages. But however as the author of this article I would here like to put my point of view which goes in favor of the training companies for project training irrespective of the technology selected for the project whether asp.net, Java, PHP, iPhone or Android.
At a development company you cannot get properly trained in the subject as efficiently as in a training institute. At a training institute you are made to learn the subject initially under the guidance of experts which may or may not be possible in the development company.
The scope of better learning where the students can get to learn from the trainers in the best possible way is added advantage of project training at a training company. For example, if a student does not understand any part of the project or has doubts on a specific topic will have a chance to get them clear from the experts. In case if the student does not understand the expert's point of view in the very first time he/she can ask the trainers to make them understand the topic better until all their doubts are clarified or they understand the subject.
One of the biggest benefits of joining a training institute for project training is that most of the training institutes today are also providing placement services at the end of the training and hence one can easily get the job after project training by joining project training at such institutes.
You can get live projects to work on in both training as well as development company. But however a training company may or may not provide live project training. Only the companies like TOPS which provide training cum outsourcing services as well can provide real-time project templates to the students to work on. So choosing such a training company like TOPS Technologies will be an added advantage.
TOPS Technologies is the leader in IT training, placement and outsourcing services and hence provides live project training to the individuals so that they can learn and develop real-time projects related to specific technology within no time. The institute provides ASP.NET, Java, PHP, Android and iPhone project training to the students under the guidance of experienced and talented professionals. Our live project training sessions are very interesting and will interest the learners because of the interactive learning methodologies we approach in our project training program. Hence, why wait? Come Join TOPS and get the best live project training in different IT technologies and shape your career for the heights.