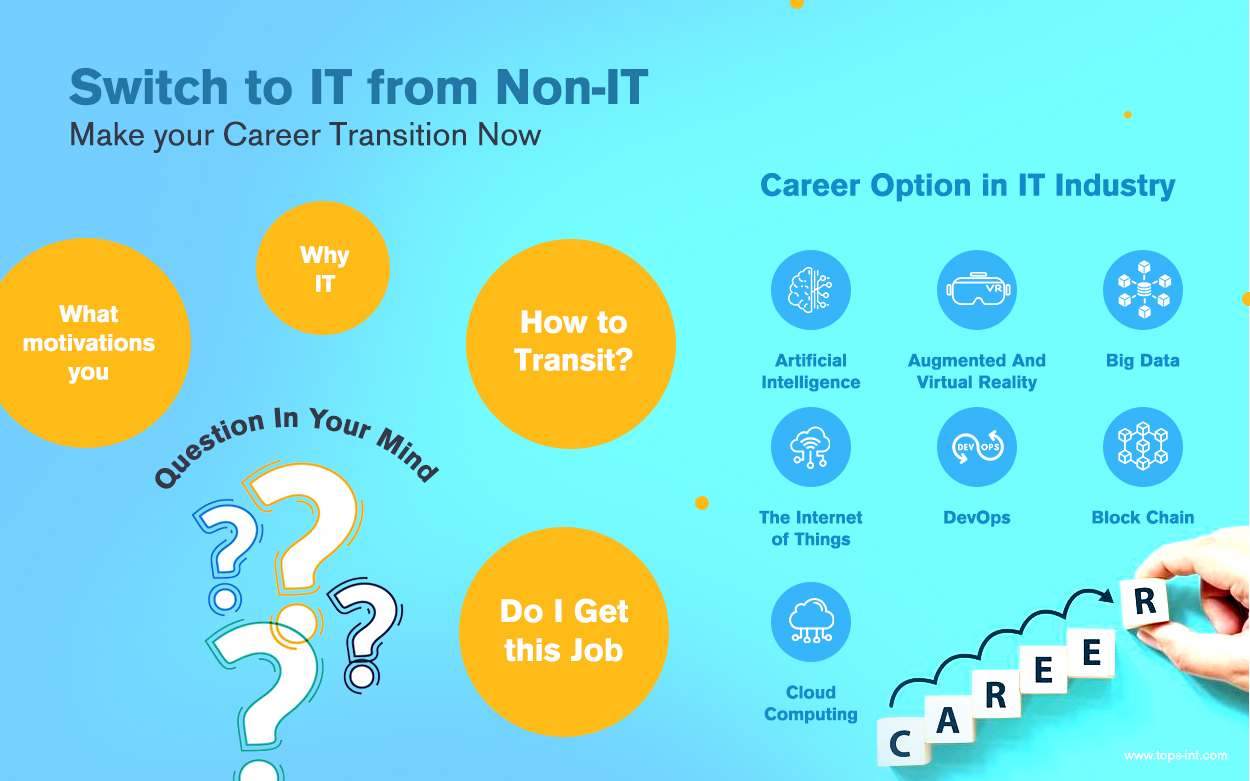 Even if it can appear complicated, changing to a profession in IT is doable. Anybody who wants to work in IT may discover a position that matches their abilities, interests, and capabilities. In addition, several of your soft skills may apply to a job in information technology. The abundance of IT professions is one of their finest features. Just choose the best option for you, then develop a strategy to get the experience and qualifications you need to sell yourself to recruiters. Finally, consider taking concrete actions to transition into the IT industry effectively. Making a career transition from a non-IT field to IT can be daunting, but with the proper training and support, it is achievable and can lead to a fulfilling and lucrative career.

According to the data on career transitions, individuals move careers 5-7 times over their working lives. You might have thought of changing careers at any stage of your life. All you need is a desire and the appropriate route to begin your new job. You have chosen the best site if you are considering how to start an IT profession. We will provide you with all the information you need to establish yourself as an employee in the IT industry.
Why would you want to change careers? People change occupations for a variety of reasons. You might not be happy with your current job, be interested in using technology to solve problems in the real world or want to learn more. No matter what it is, you should figure it out first. Knowing precisely what you did not like about your last job will help you determine what you want in the new one. Knowing why you want to change careers and work in IT is always good.
Why choose an IT career?
The day when only people with degrees in computer science and information technology were eligible for IT employment is gone. Even though your academic background is not in information technology, you can transition into an IT professional if you have the necessary abilities. Before COVID-19, it was infamously tricky for software engineers to find high-paying and high-stakes employment. Many professionals are considering a non-IT to IT career transition due to the high demand and growth in the technology industry. With the right skills and training, a non-IT professional can successfully switch to an IT career and enjoy a lucrative and fulfilling job.
People who are not technical are just as eager as everyone else to change careers. If you want a chance to be one of them, you have come to the right place. So, here are some things to think about before you start your journey:
What motivations drive your urge to update to modern technology?
Which aspect of computers do you find most comfortable?
How Do You Transition from a Service-Based Business to One That Sells Real Products?
Why IT?
Do LinkedIn posts from professionals that ask, "Do you wonder if you could get one of these jobs?" scare you?
This article will teach you the strings if you are concerned about entering the IT business. In this era of massive layoffs in the IT business, individuals in sales and marketing are attempting to pick up new skills. So, start learning now!