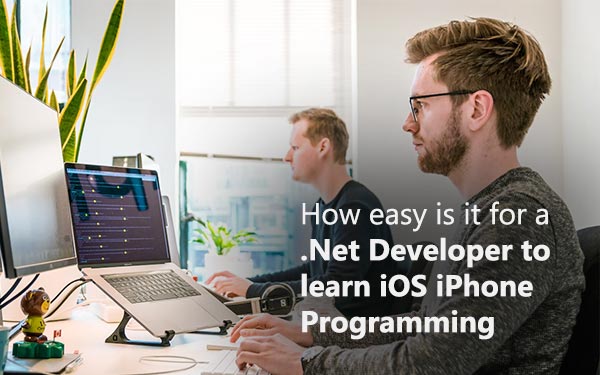 In most cases the learning/ training for a .net developer to learn iPhone programming is easy. iPhone application development is easy and user-friendly for Dotnet .net software developers. You will require a mac with MAC operating system, iOS application development needs COCOA Framework and Xcode editor to create iPhone and iPad applications. Xcode also offers various templates for developing standard applications. In order to learn iOS development, you can enroll in iOS Developer training.
iOS/ iPhone/ iPad application development pattern is based on MVC (Model View Controller) architecture and uses a programming language called Objective C. Objective C is a superset of C languages, and is an object-oriented language based on message passing. The reason why it is easy for a .Net developer to learn Objective C is because conceptually it is very similar to C, C++, and C#, though the syntax is slightly different. The operators, Data Type, and Control Statement are similar to C# and each class name starts with NS (Nextstep).
NSString *name= [[NSArray alloc ]init];
Similarities between C# and Objective C
NSarray can store as object value of iPhone application, Looping statement, Class, Object, Interface
Differences between C# and Objective C
Method Signature is different in C#
-(return type)methodname:(parameter type name of parameter)
Any object property can be accessed using the .period operator in Objective C [Classobject method name];
The application design is based on pixel view and the database software for IOS is called SQLite. SQLite is light and a great relational database that can be used in almost any application. SQLite is very of the databases that require lightweight database programming. Mesa SQLite is a common editor used to edit SQLite, developers can also add firefox plugins to get an interface to use SQLite Database. XML and JSON can be used to get data from Web Services XML parsing is based on XML tags and JSON Parsing is based on key pair value.
Integrating other readily available APIs is extremely easy and user-friendly in ios.