Artificial Intelligence (AI) is revolutionizing the graphic design industry in India, making it more efficient, accessible, and innovative.
As per a recent survey, incorporating AI modules like mid-journey in graphic design courses can potentially increase a fresher salary by 40-50%. This showcases the rising demand for AI-integrated design skills in the job market.
Ahmedabad, known for its thriving educational landscape, is witnessing a surge in the popularity of such AI-integrated Graphic Design Training in Ahmedabad.
With over 500 students enrolling annually in graphic design, these courses are expected to grow by an impressive 20% in the next year.
In the context of India's tech-forward economy, AI in graphic design is not just a trend but a necessity. It fosters creativity and efficiency, making it a game-changer for aspiring designers. As we move forward, AI's role in graphic design is set to expand, promising an exciting future for design professionals.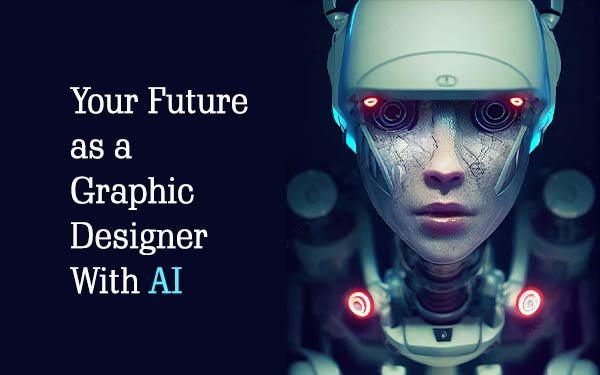 While browsing through a wide range of graphic design courses, you may have a plan to begin your career as a freelancer, do a job, or launch a startup. Regardless of the path, it is essential to learn about the upcoming trends and the changing landscape that will shape the industry's future—and your career.
Read on to dive deeper into how you can open a world of new opportunities as a successful graphic designer.
The Power of AI
Artificial Intelligence is penetrating almost every industry across the globe, and graphic design is no exception. Wherever AI goes, it transforms how systems operate and people work. As one of the biggest misconceptions of the age, many people fear getting replaced by AI at the workplace. Will AI take over creative jobs? Will graphic design become obsolete in the future? A straight answer is 'no.'
Experts have conducted design experiments with advanced creative AI that uses GAN (Generative Adversarial Networks) algorithm developed by the American researcher Ian Goodfellow in 2014. Results show that AI can replicate and provide variations and iterations based on the input elements.
So, when it comes to creativity and the skills required to understand a design requirement from an objective viewpoint, can it match the human mind?
The Human Mind
Human graphic designers create art by understanding the personality and attributes of a brand. They need to consider several factors, such as cultural nuances. They excel at understanding abstract concepts and fitting into a project's message. In addition, the individual perspective of every human designer contributes to the final product—which adds a different level of uniqueness.
On the other hand, studies show that AI lacks awareness and cannot provide the human touch and translate specific requirements into art.
But without question, AI has an important place in modern graphic design. And human designers are just as necessary. But you may ask, where's the exact position of humans and AI in the industry?
How AI is changing the landscape of design?
The technology that allows us to speak with one another and exchange information is continuously being improved as time goes on.
Artificial intelligence, sometimes known as AI, is rapidly becoming one of the most essential and impactful technologies of our time.
AI is slowly but surely getting more and more engaged in our day-to-day lives, from the manner in which we search for information online to the manner in which we interact with our various electronic gadgets.
The creators of graphics are not an exception to this pattern.
In point of fact, artificial intelligence is already having a significant influence on the area of graphic design, and this trend is only likely to grow more widespread over the artificial intelligence course of the coming years.
Recently there has been a rise in applications for Artificial Intelligence Courses due to the rising demand of AI integration in all fields of life.

The following is a short list of the ways that artificial intelligence is altering the environment of graphic design:
1. Software for a design that is smarter and more intuitive:
Artificial intelligence is making design software smarter and more intuitive.
For instance, the Sensei AI platform that Adobe uses is powering a new generation of Adobe Creative Cloud products. These products can automatically select the colors that will work best for your design, suggest fonts that are compatible with your aesthetic, and even generate new designs based on the ones you've already created.
2. Individualized design
Artificial intelligence may also be utilized to generate designs that are more personalized.
AI-enabled design software is able to generate one-of-a-kind creations that are uniquely suited to the user by studying the previous design decisions and preferences made by the user.
3. Automated design
The creation of automated design tools is one of the most fascinating ways AI is affecting graphic design. This is one of the most intriguing ways AI is transforming graphic design.
These tools are capable of creating full designs on their own, without the participation of a human designer at any point in the process.
Even while these tools are still in their infancy, they have the potential to completely transform the design business by rendering high-quality design available to anybody, regardless of their previous experience or degree of expertise.
4. Improved collaboration
Another benefit of AI is that it makes it simpler for designers to work together, both with one another and with other professionals in related fields, such as writers and marketers.
For instance, Adobe's new AI-powered software, Project Felix, enables designers to effortlessly produce lifelike 3D pictures that can then be utilized in various forms of marketing collateral.
5. Improved productivity
One of the most significant advantages that AI may provide for graphic designers is the ability to assist them in being more productive in their job. AI makes it possible for designers to concentrate more on the creative parts of their job by automating mundane, repetitive chores.
It is quite evident that AI is having a significant effect on visual design, and there is every reason to anticipate that this pattern will persist in the years to come.
Because of the increasing sophistication of AI, designers will be able to develop designs that are even more remarkable and have a greater impact.
If you're a graphic designer, it's imperative that you remain abreast of the latest developments in this fascinating technology.