Nailing Python interviews requires thorough preparation and practical experience. Our Python course in Ahmedabad offers an in-depth curriculum that includes common interview questions, ensuring you're well-prepared for job interviews in the tech industry.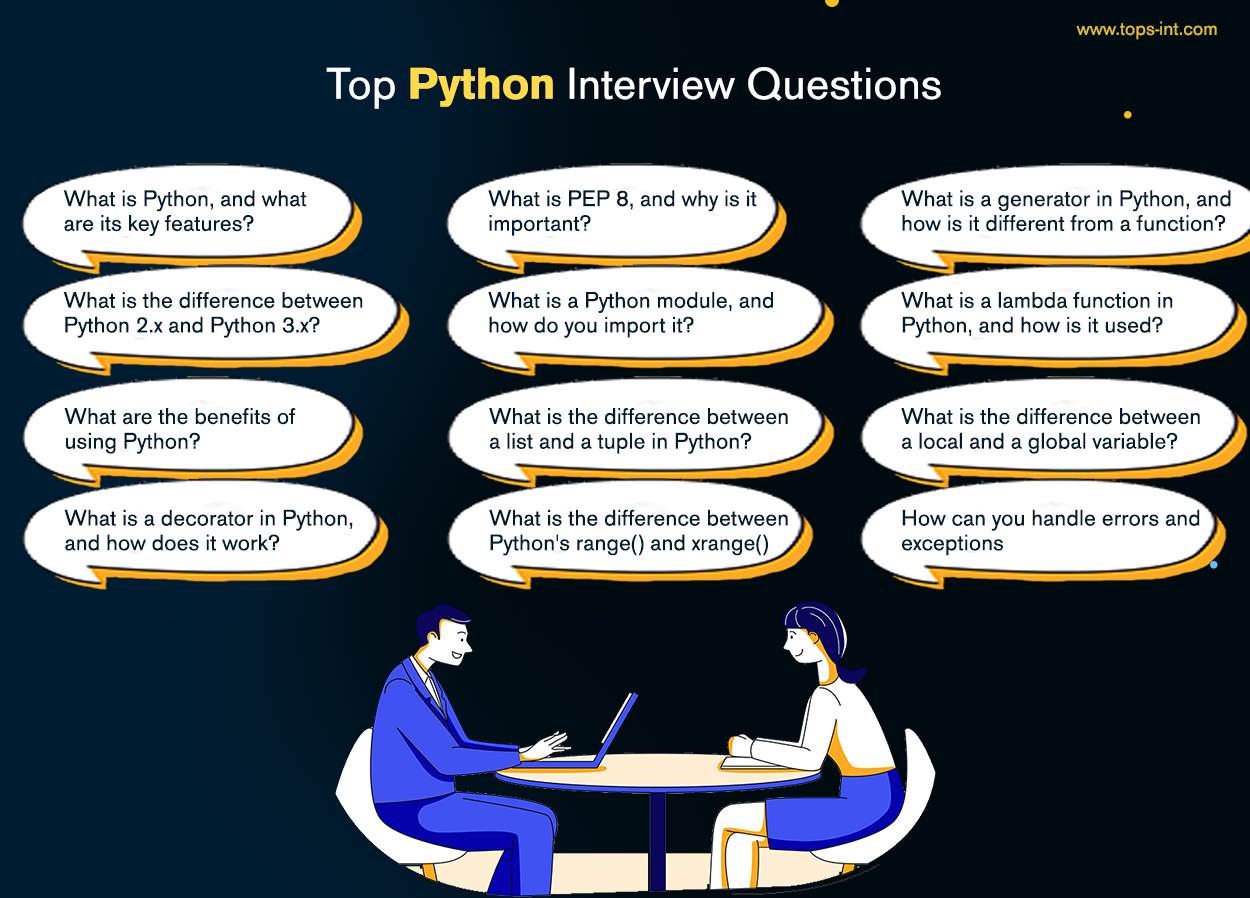 Are you preparing for a Python interview? If so, you've come to the right place. Here, you'll find the top Python interview questions that employers commonly ask. We'll review various topics, ranging from beginner to advanced, to help you better understand the subject matter.
Reviewing these Python Tricky Interview Questions before your interview can help increase your confidence and give you an edge in hiring. So, let's dive in and brush up on your Python skills!
Important Python Interview Questions and Answers
What is Python, and what are its key features?
Python is an interpreted, high-level programming language with straightforward and understandable grammar. In 1991, Guido van Rossum produced it, and it became available. Python is widely utilised in many industries, including data research, web development, machine learning, artificial intelligence, and automation.
Python's simplicity and usability are among its most important characteristics. Because of its syntax's simplicity, it's a popular option for novices. Moreover, it contains a big library of modules and packages, which makes it extremely flexible and adaptable for many applications.
Python's platform freedom is another advantage. It doesn't require any code modifications to run on various operating systems, including Windows, macOS, and Linux. As a result, it is very portable and gives programmers the ability to construct cross-platform programmes.
Moreover, Python supports procedural, functional, and object-oriented programming paradigms. Because of this, it is very adaptable and can handle many programming paradigms.
Python's large developer community, which contributes to its development and maintenance, is another key characteristic. Thanks to the community's wealth of resources, guides, and documentation, developers may easily learn and utilise Python.
Additionally, Python has a strong collection of tools and frameworks, like NumPy, Pandas, and Django, which make it a great language for machine learning, web development, and data analysis.
You can easily Learn Python Programming basics from this question. So make sure to read it properly.
What is the difference between Python 2. x and Python 3. x?
The two main Python programming versions are Python 2. x and Python 3 x. While there are numerous similarities between the two versions, there are also some significant variances. Python 2. x came out in 2000, while Python 3. x came out in 2008.
The syntax is among the most important differences between Python 2. x and Python 3. x. To increase the uniformity and clarity of the language syntax, Python 3.x made several improvements. For instance, Python 3. x's print function has replaced the print statement from Python 2.x. The print function is much simpler to use in various situations, and more sophisticated output formatting is now possible.
The way Python 2.x and Python 3.x handle Unicode is another significant distinction between them. Python 2.x does not have built-in Unicode support. Thus programmers must utilise specialised libraries and modules to work with Unicode strings. In contrast, Python 3.x has complete Unicode support, simplifying working with characters other than ASCII.
Python 3.x has many performance enhancements. For instance, Python 3.x's interpreter is more effectively tuned for multi-core CPUs, which can result in notable speed improvements in particular applications.
One thing to remember is that Python 3.x is the current and next language version; Python 2.x is no longer actively developed or supported. To ensure that their code will be supported and maintained in the future, developers should start new projects with Python 3. x rather than Python 2.x.
The two main Python programming versions, Python 2.x and Python 3.x, differ significantly in syntax, Unicode support, and performance. To guarantee long-term maintenance and compatibility with the most recent tools and libraries, developers should use Python 3.x for new applications.
Facing Python interviews can be a lot less daunting when you have job placement support. A Python course with placement not only teaches you the essentials of Python but also helps you secure a job, offering practice interviews and resume-building sessions.
Read More: Top 10 Python Project Ideas After Doing A Python Certification Course
What are the benefits of using Python?
If you want to Learn Python, you need to know about its benefits. Python is a flexible and potent programming language that has become increasingly popular in various industries, including data research, web development, machine learning, and artificial intelligence. Using Python has several advantages, some of which include the following:
Easy to learn and use: Python is a good language for novices to learn programming since it has straightforward and easy-to-read grammar. Because its syntax resembles English, it is simpler to read and comprehend.
Huge community and ecosystem: Python has a sizable and vibrant developer community that actively supports and contributes to its growth. Developers may easily learn and use Python because of the variety of materials, modules, and frameworks provided by this community.
Cross-platform compatibility: Python is portable and versatile since it can be used on various operating systems, including Windows, Linux, and macOS.
Large module and package library: It has a large module and package library that may be utilised for various applications. These libraries offer a variety of functionalities, including web development, machine learning, data analysis, and more.
Great for data analysis and visualization: This language has gained popularity for data analysis and visualization because of packages like NumPy, Pandas, and Matplotlib. These libraries give programmers various tools for data analysis and visualization, facilitating the discovery of new information and formulating well-informed judgments.
Good for automation and scripting: Python is an excellent language for activities requiring automation and scripting. System administrators and DevOps experts frequently use it because it is simple to develop scripts that automate repetitive activities.