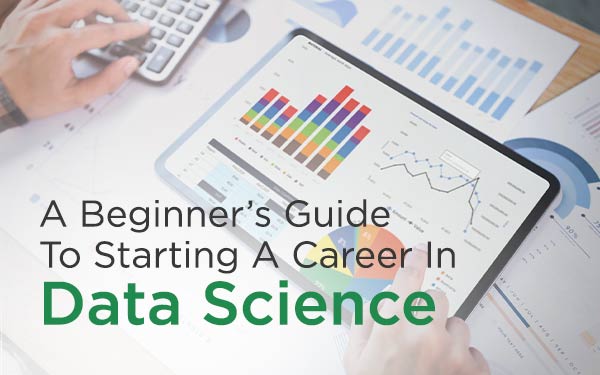 Are you looking to start a career in Data Science but don't know where to begin? Data Science is one of the most exciting and rapidly growing fields of technology. For anyone looking to get into a career in Data Science, the possibilities are vast. 
With over 500 startups, India is the third-largest market for Data Science and analytics across the globe. The number of new jobs is projected to grow by 25% in the next three years. In addition, the average salary of a Data Scientist in India is Rs 10 lakhs per annum, making it a highly lucrative career option. The demand for data scientists is only increasing, and now is the ideal time to start your career in this field. 

In this article, we will provide an introduction to the world of Data Science and discuss the skills and knowledge needed to get started in this field. We will also explore the different opportunities available in the field and how to choose the Best Data Science Course to start your journey.

What is Data Science?
Data Science is an interdisciplinary field of study that merges mathematics, statistics, computing, and other areas of knowledge to make sense of large data sets. It has become an increasingly popular field of study in recent years due to the vast amount of data being collected in all areas of life. Data Science is a combination of various technologies, algorithms, and processes used to analyze raw data and derive insights from it. It is a combination of mathematics, statistics, machine learning, and computer science that enables us to make sense of data.

Data Science involves the use of statistical methods, data analysis tools, and computer programming languages to analyze vast amounts of data. Data scientists use these tools to uncover patterns, trends, correlations, and insights from large datasets. Data scientists are also able to identify relationships between different sets of data, which can provide valuable insights into a company's operations.

Data scientists are also skilled at creating predictive models that can be used to forecast future trends in the data. These predictive models can be used to make decisions about marketing campaigns, product development, customer service, and more. Data Science is also used to create data visualizations and reports that can be used to better understand the data.

Taking a course in Data Science at a Data Science Institute is a great way to learn the skills you need to have a successful career in the field. With the help of a Data Science course, you can learn a lot about the basics and uses of Data Science, which will help you do your job more efficiently. Also, these courses give students a chance to learn and improve important skills like programming, data analysis, and machine learning. 

There are a lot of Data Science courses, which makes it easy for anyone to find one that fits their needs and budget. Also, many of the Data Science Training offer different certifications, which can be helpful for people who want to strengthen their resumes. You can search for a Data Science Course Near Me and enroll in one of the reputed institutes. 

Benefits of A Data Science Career 
Explore the benefits of choosing a Data Science career and why it might be the perfect fit for you:
Higher Earning Potential 
One of the best things about a career in Data Science is the chance to make a lot of money. Data Science is a field that is growing quickly and is likely to keep growing as businesses and organizations depend more and more on data-driven decisions to stay competitive. Because of this, there is a lot of demand for data scientists, and they can expect to be well-paid for their skills and knowledge. 
Data scientists' salaries depend on their experience, education, and where they work, but on average, they tend to be higher than in other technical or scientific fields. Also, data scientists usually get paid even more if they have specialized skills or experience in a certain industry or sector. In addition to their salaries, many data scientists also get bonuses, stock options, and other forms of pay that can help them make even more money. Overall, the high earning potential of a career in Data Science makes it a good choice for people who want a challenging and rewarding job.

Wide Range Of Job Opportunities 
Data scientists can focus on many different things, such as finance, health, marketing, and so on. Data Science is one of the most flexible fields in the world. It lets people explore many different interests and use their knowledge in many different ways. For example, a data scientist could work in finance, but they could also work in health, marketing, or even computer science. 
Because you can work in many different fields, Data Science is a great career choice for people who want a job with a lot of different opportunities. Also, the field of Data Science is always growing and changing, so data scientists can always learn new skills and stay ahead of the game. Since there are so many job options in this field, it's not surprising that so many people choose to work in this field.
Chance To Work With New Technologies 
Data scientists are often the first to use new technologies and methods of analysis, and the challenges they face can be very rewarding. To stay competitive, data scientists need to know about the latest technology trends and be able to use them in their work. Professionals in Data Science are often asked to use the latest technology to solve complicated problems. This could mean making anything from models that can predict the future to solutions for real-time analytics. 
Working with new technologies allows data scientists to be creative, think outside the box, and come up with new ways to solve problems. Also, people who work in Data Science are usually surrounded by people who share their interest in the latest technologies and techniques. Working in a place like this can be both stimulating and inspiring, and it can also be a good way to meet new people. In the end, working with cutting-edge technologies is one of the most exciting, rewarding, and useful facets of a Data Science career.

Flexible Working Environment 
In the past few years, working from home has become more and more common, and many data scientists now work from the comfort of their own homes. This has a number of benefits, such as making it easier to work on Data Science projects without the noise of an office. Working from home also gives you the chance to set your own hours and avoid having to drive to work. 
This lets data scientists use their free time to do things they are interested in. Also, working from home cuts costs like office rental, which makes it a good choice for many businesses. Lastly, working from home can make it easier for data scientists to work together since they don't have to travel to do so.
Which Industries Are Actively Hiring For Data Science Professionals? 
Data Science is a field that is growing quickly and is used in many different fields. It uses advanced analytics and data mining to help businesses make better decisions. Data Science helps businesses learn more about their customers, improve their work, and improve the customer experience. 

1. Retail Industry: Retail was one of the first industries to use Data Science. Retailers use Data Science to study how customers act, find the best places to put products, and make their marketing campaigns more personal. Retailers can sell the right products to the right customers at the right time if they know what their customers like and what trends they follow. This helps them keep customers longer and make more money.

2. Healthcare Industry: This industry uses Data Science to improve patient outcomes, lower costs, and streamline operations. Data Science can be used to look at patient records, predict diseases, and create treatments that are tailored to each person. Data Science can also help healthcare organizations find trends in patient care and learn more about how well treatments work.

3. Banking and Financial Services Industry: The banking and financial services industry uses Data Science to reduce risk, find fraud, and improve the customer experience. Banks use Data Science to look at customer information and spot suspicious behavior. This keeps them from losing money and keeps their customers safe. Data Science can also make products and services more personal for customers.

4. Manufacturing Industry: The manufacturing industry uses Data Science to optimize production processes, cut costs, and improve the quality of products. Data Science can help manufacturers determine where their processes aren't working well and find ways to fix them. Data Science can also make smart products that can be controlled and monitored from a distance.

5. Education Industry: The education industry uses Data Science to improve how well students do in school, cut costs, and make education more accessible. Data Science can be used to look at information about students and come up with personalized plans for learning. Data Science can also help teachers find patterns in how their students do in school and learn how well their teaching methods work.