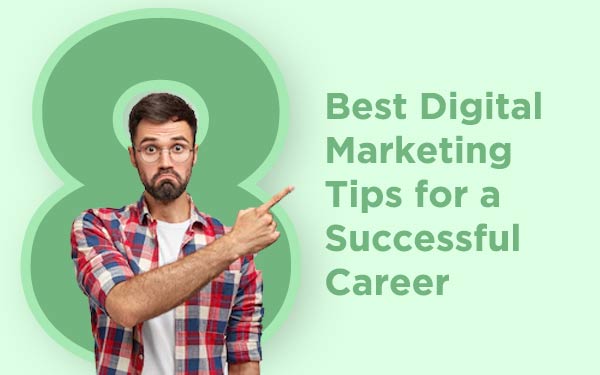 Are you looking for ideas and ways to have a bright future in digital marketing? You are in the right place! The experts in our digital marketing training institute have put together the essentials for digital marketers, including aspiring professionals, so you know what to expect in this industry. Get some helpful tips to enhance your skills as a digital marketer and better your chances of landing your dream job!
How to Be a Good Digital Marketer?
To succeed as a digital marketer, you must understand the intricacies of digital marketing, the required technicalities, the analytics behind it, networking, time management, and so much more. Enrolling in a reputable digital marketing training course will undoubtedly pay off. Also, with time, hard work indeed pays off. In addition to this, here are a few skills and other essentials you need to have in your bag to make it big in the world of digital marketing!
1. Strengthen Your Network

One of the critical rules to better your digital marketing skills is to expand your network. The more you get to know people in the relevant field, doing the same work, the better your chances at learning and growing. This way, you will also stay ahead of your competitors in the area. When you have a zeal to learn, why not learn from the people around you? It is best to be around people who can advise you well and guide you through your career in digital marketing. You may also consider attending industry meetups and conferences conducted in your city or online to establish relationships with other aspiring digital marketers. The workshops provide new ideas to budding marketers and help widen their strategies.
2. Learn Everyday

Digital marketing courses have been trending lately because of the sales influx it brings. Moreover, the transient nature of this fast-moving world and the rapid advancements in technology make it crucial to constantly learn more and more about digital marketing strategies and updates.
3. Stay Updated

It is vital to keep yourself updated in the ever-evolving marketing industry. With the advent of marketing on Facebook, Instagram and YouTube, the sales algorithm changes every five minutes. Therefore, you need to keep track of what's happening on these platforms to not miss out on an important update. One way to accomplish this is to look for a comprehensive

digital marketing course

by experienced experts.
4. Build Your Brand

To sound believable to companies who hire you for your online marketing services, you must develop a brand name for yourself. This brings authenticity to your work and creates a trustworthy impression in the eyes of the buyer too.
5. Adapt the Lingo

There is a specific vocabulary in the digital marketing network, which is vital to learn to survive and grow in the marketing world. This includes terms like SEM, SEO, PPC, and more. The more time you invest in this network to engage with people, the better it is for your growth.
6. Learn Technical Skills

Even though a significant portion of digital marketing depends on good communication, a lot depends on your designing skills and knowledge of creating a website. For this, it would be best if you knew the basics of HTML and graphic design so that you can confidently meet all hurdles coming your way. HTML and visual learning will surely make you stand out in the job market.
7. Track Your Metrics

After you have completed your digital marketing course and learnt everything about the foundation of online marketing, it is time you know how to manage your workflow. Even the best marketers sometimes find it challenging to locate where exactly their hurdle lies. For this, you need a strong command of the day-to-day data analytics of your work. If you can convey and articulate ad revenue run by a campaign, your CV will look impressive and increase your chances of procuring the job.
8. Get a Certificate

Procuring a certificate from a dignified institute is another way of proving that you excel at digital marketing. If you are keen on learning this course and wish to get the best career options at your disposal, admit yourself to the best digital marketing institute to ensure an all-rounded training experience.